Planning for your succession and inheritance can cause anxiety and mental health problems; but that doesn't mean you should put it off.
As we build businesses and accrue wealth over a lifetime, we need to be aware of where and how that money and responsibility will be passed on. According to research by Julius Baer, the global private bank, an estimated $68 trillion will be transferred in the next twenty-five years between the generations in the US alone, and yet around 70% of high net worth families do not have a succession or inheritance plan in place1.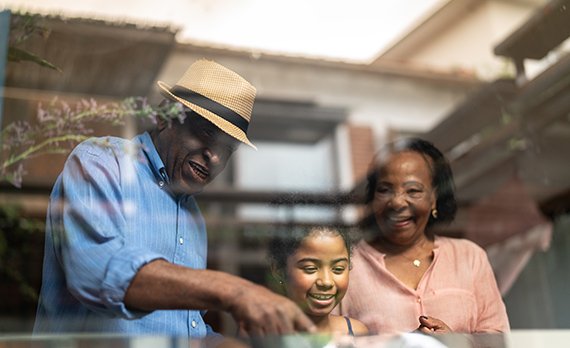 Mark*, a recently retired company director based in Hong Kong, admits this was the case for him because 'it was easy to put off. I was busy with the day to day of the business, then thinking about – or trying not thinking about – retirement. I couldn't face the step beyond that.'
He has two daughters and two granddaughters, but his short-term goals were to 'move back to the UK, re-establish a life here and spend some of the money I've worked hard to accrue on fun experiences with my wife and family.'
Meanwhile, on a company-wide level, fewer than one in four private company boards say they have a formal succession plan in place, according to the National Association of Corporate Directors2. Having a plan in place is particularly important for survival of family businesses, which play a significant role in the global economy – 750 of the largest businesses generated a total of USD 9.1 trillion in 2018 according to research quoted by Julius Baer3. Yet, according to PWC's Family Business Survey in 2016, 43% of family firms do not have a succession plan in place, with only 12% making to a third generation4.
Mental Health concerns
Carla Morris, a financial planner at Brewin Dolphin, one of the UK's leading wealth manager firms, acknowledges that there can be anxiety bound up in the decision-making processes around where to gift money or control of a company. 'It can be stressful because people sometimes don't know where to start,' she says.
The stress can have an impact on our mental health. 'It is important to recognise that succession planning can be stressful and therefore impact upon a person's mental health,' Dr Pablo Vandenabeele, Bupa Global's Clinical Director for mental health, warns. According to Bupa Global's Executive Wellbeing Index, 40% of high-net-worth individuals across the world believe that concerns about money, succession and inheritance have impacted their mental wellbeing5.
The stress is compounded by current economic worries about the fallout from COVID-19 around the world; according to Bupa Global's research, the economy is the biggest concern weighing on executives' minds with 41% feeling worried about an economic recession.
Why is succession planning so stressful?
The issues surrounding succession planning are complex. To start with, inheritance is bound up in a sense of self, not only how we see ourselves, but how outsiders view us, too. According to Bupa Global's Executive Wellbeing Index, 51% of high net worth individuals agree that in their family, self-worth is defined by a person's achievement and accomplishments.
But it also involves confronting mortality – rarely a pleasant thought. 'To be honest, I just didn't want to think about my death,' Mark admits. Add in human factors such as family dynamics and politics and it is easy to see why inheritance and succession planning can be a complex and daunting task.
'You might be worrying about how others will feel when you have that conversation, because it's a difficult one to start,' Morris says. 'But, it's so important that you do.'
Ways to manage stress
There are practical ways to help manage the stress. Dr Vandenabeele emphasises that at stressful times like these, it's even more important to be proactive about our mental health. 'These decisions are so important that stable mental health is necessary when making these plans,' he says. 'To achieve the best outcomes, it is important to openly discuss these worries with family and advisers, and to be aware of the complexity involved.'
Starting to plan the future of your finances is one way to manage the stress and anxiety that can arise from succession planning. Morris explains that it's important to start having conversations to decide what you want to achieve. 'That might mean working out exactly how much you need for a comfortable retirement, passing on your business to others, or seeing if you can gift assets to beneficiaries in the shorter term, and have the pleasure of seeing that happen.'
She advises that it is beneficial to start planning as early as possible. 'Not only for the person to know that they can live comfortably and pass on to future generations, but also for the benefactors of executors, when the time comes, to know who they will be dealing with.'
Morris says that booking an appointment with a financial expert can be a good first step. Then, 'communication is absolutely key.' That might involve bringing family members and beneficiaries into discussions. 'It's entirely on an individual and personal level, but in some cases, it might be appropriate to bring in others into those meetings.'
That includes setting up expectations for family members, whether that is succession planning or inheritance. Dr Ravi Pillai, Chairman of RP Group, carefully managed the transition of his two children into his global business. He emphasises how it was important to make sure they had their own professional qualifications and work experience outside of group companies before joining the executive team.
Similarly, Sonia Cheng, now CEO of Rosewood Hotel Group, was diligent about getting experience in real estate divisions of private equity firms before joining her family's hospitality group; even then she spent two years going from department to department to understand how the business worked6.
Morris adds that having a will is extremely important. 'You can put together an amazing financial plan, but if your will wasn't written correctly or made up to date, then that can cause problems.'
Get mental health support
If the stress of the situation is causing mental health problems, it's important to seek help. Worryingly, the current COVID-19 pandemic has caused some to put off treatment, with Bupa Global's research showing that 31% of high-net-worth individuals have delayed seeking help for their mental health. 'The pandemic has had a real impact on delaying treatment for mental health issues,' Dr Vandenabeele adds.
Bupa Global Resources for customers
Bupa Global has resources to help you and your family cope. If you're a Bupa Global customer and have a health concern the Global Virtual Care (GVC) service provides confidential access to a global network of doctors by telephone or video call. There are virtual appointments available 24/7 in multiple languages - enabling you to speak to a doctor at a time that suits you. Please visit our COVID-19 information hub for more details on how you can access our GVC service.
Bupa Global customers also have access to our Healthline service, which gives access to general medical information on COVID-19 and other medical conditions (mental and physical) as well as providing advice from health professionals and referrals for a second medical opinion.
Alternatively, if you have access to Bupa Global through your employer – you and your family may be entitled to use the Employee Assistance Programme. The programme entitles Bupa Global policyholders to access trained healthcare professionals 24 hours a day, 365 days a year via phone, email or online to talk through any work, life or personal concerns.