How to deal with difficult situations in uncertain times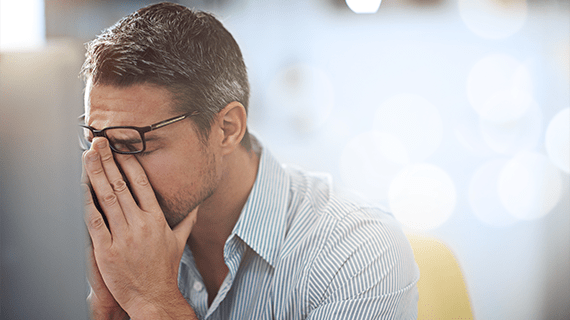 Many business leaders thrive on making decisions quickly and well, thanks to their ability to stay calm under pressure and composed in difficult situations. But given the magnitude of the global COVID-19 crisis and the uncertainty surrounding it, it's understandable that those in positions of power and responsibility may be under greater strain.
Karen Kwong, business and wellbeing coach, organisational therapist, and owner of Renoc Consulting says, 'If you're used to being the person who has the power to influence your teams and employees, your stakeholders and to a certain extent the outcomes for your business, this virus has more than likely impacted the way you would usually operate.'
Additionally, she points out, fear and uncertainty are causes of stress for most people, which can lead to deeper mental health and wellbeing problems, or trigger existing issues.
This isn't surprising. According to the Institute for Health Metrics and Evaluation1 anxiety is the most commonly experienced mental health condition with 284 million people suffering from symptoms across the globe.
'When people who are already in high-pressure positions are met with uncertainty and loss of control the additional stress can impact their behaviour. This causes them to stretch themselves too thin by over-working, or even become avoidant to the problem at hand.'
So how do leaders manage their own wellbeing in difficult times, while ensuring they're meeting expectations of their colleagues, friends and family?
Identify your key skills
To continue to perform at your peak, take a step back to analyse what your natural leadership skills are and make them work for you.
'Single-minded and/or transactional leaders can often be successful through relentlessly pursuing a single goal. That drive, energy and passion can be what motivates and inspires people to achieve their vision,' says Kwong.
This strength can still be valuable but she advises ditching rigidity and laser-focus for a more nimble and open approach. If your leadership style relies on charisma, that may need some adjustment too.
'That ability to get the best from employees will be far harder to do when everyone is disparate and working from home, says Kwong. 'Times like these require visionary stewardship with concrete and practical plans. Employees need someone that they respect and trust, not just someone they like to guide them through these tempestuous waters.'
Ground yourself – and breathe
'It's important to keep an eye on your mental wellbeing,' says Dr Naveen Puri, a Lead Physician at Bupa UK.
'We all know what our typical operating mental state is like. Perhaps you already have a propensity towards being slightly low or anxious. Dealing with the unknown can be difficult for people who are used to being in control. And when we start to feel threatened by something the survival part of our brain often kicks in. This can reduce our ability to focus and think clearly, and lead us down the path of "worst-case scenario thinking" and for some a downward spiral.
'It's harder to stay calm in a situation like the current one which is constantly changing,' Dr Puri continues. 'But you should try to recognise what this loss of control feels like and embrace it. What you can control is your ability to embrace the loss of control – you can make the uncertainty empowering by shifting how you think of it'.
He suggests breathing exercises can help: 'Try cyclical breathing: breathe in for four seconds, hold for four seconds, breathe out for four seconds, hold for four seconds. If you do this five times you'll notice how regulating your breathing can calm you down.
'You can build up to doing this over several minutes at a time and it can help to de-escalate feelings of panic or stress,' he says.
Alternately, Dr Puri suggests, grounding yourself by sitting or standing, and really feeling your weight sink through the body into the floor. In moments of panic this physical stabilisation can translate to psychological stabilisation too.
Time for a change
'Extreme events can be a good time to become more personally self-aware,' says Karen Kwong.
'Practise checking in with yourself and essentially doing an audit on your thoughts and feelings. By knowing what you are thinking and how you are feeling you might get an insight as to what your instincts and subconscious are telling you,' she explains.
And how are your team feeling? 'Now that people are working remotely, it is even more vital to do this regularly', she says. 'Don't let this habit drop when you do go back to a physical office.'
Kwong also advocates taking time to pause and reflect. 'From a companywide perspective, are all those scheduled meetings necessary? And if so, do they need to be as regular? Could your processes be more efficient?' she says.
'As for yourself, do an assessment of your leadership qualities during this crisis. How would your fellow executives, employees and customers rate you and why?'
Be honest with yourself
Management consultant and founder of The GameChanger Consultancy, Laura Trendall-Morrison adds, 'Be clear about what is within your control and what is outside of your control. You can take all reasonable steps to mitigate risks, however you may be unable to entirely avoid risk and that should be clear in your risk assessment and decision-making process.
'In certain situations, such as employment or procurement, you may need to document and keep adequate records, if there is scope that your decision may be challenged at a later date.'
Trendall-Morrison also suggests discussing your rationale with a trusted confidante, being clear on confidentiality.
'Talking the options through with a third party may help you make the best decision,' she says. 'You also need to know when to call on advisors, such as mentors, lawyers, and experts for professional support in making a decision.'
The future may be unknown but a mindset open to change when it comes to working could be the legacy of the COVID-19 crisis.
Resources for Bupa Global customers
If you're a Bupa Global customer2 and have a health concern, Global Virtual Care is a smartphone application that provides confidential access to a global network of doctors. You can seek professional advice via telephone or a video call, with same-day virtual appointments available 24/7 in multiple languages. This enables you to speak to a doctor at a time that suits you. Please visit our COVID-19 information hub for more details on how you can access our GVC service.
Alternatively, if you have access to Bupa Global through your employer, you may be entitled to use Everyday Resources our Employee Assistance Programme*. Everyday Resources entitles Bupa Global policy-holders access to a trained healthcare professional 24 hours a day, 365 days a year, in multiple languages, via phone, email or online for mental health support with any work, life or personal concerns.
*Global Virtual Care is provided by Advance Medical, a Teladoc Health Company, and Everyday Resources is provided by Workplace Options LLC who are both service providers for Bupa Global. Bupa Global is not responsible for any actions or omissions carried out by these third parties in the provision of these services.
---
1. Institute for Health Metrics and Evaluation, Global Burden of Disease Study, 2017.
2. Available to all policyholders with member numbers that start with 'BI'.