How to help your staff move more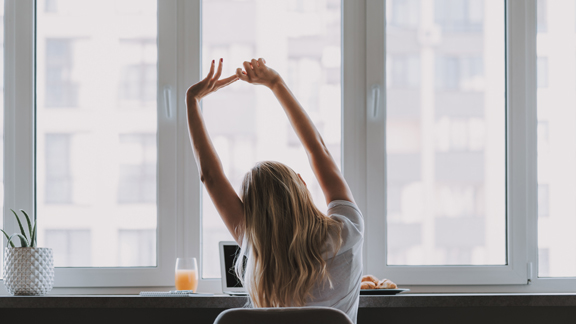 Health advice and fads come and go, but one thing that never changes is the fact that a healthy body depends on physical activity. The good news is that even if your employees are desk-based, you can help them make movement a bigger part of their day.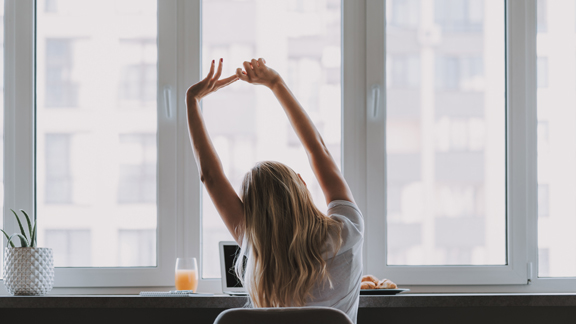 The equation is simple: for better health, move more. The World Health Organisation (WHO) recommends a minimum of 2.5 hours of moderate-intensity physical activity per week1. However, according to the Active Lives Adult Survey, which gathered information from over 175,000 respondents between November 2020 and November 2021, only around six in 10 adults in the UK (28 million) achieved their 150+ minutes of activity per week2.
COVID-19 restrictions during this time clearly impacted many people's fitness routines and access to gyms and health centres. As well as this, sedentary jobs, screen-based entertainment, and labour-saving technological innovations, have all contributed to the decline seen in adult physical activity.
As an employer, it's worth remembering that workplace stress can play a role too. Heavy workloads and deadline pressures might mean longer hours with fewer breaks, and stress in itself makes healthy lifestyle habits harder to maintain.
Why moving more matters
Making time to stand up and exercise has a range of health benefits – including lowering our risk of type 2 diabetes, heart disease and stroke3 – and regular activity helps boost endorphins4, the feel-good brain chemicals that have a powerful effect on physical, mental and emotional wellbeing.
According to WHO, regular physical activity is proven to help prevent and manage noncommunicable diseases such as heart disease, stroke, diabetes and several cancers. It also helps prevent hypertension, maintain healthy body weight, and can improve mental health, quality of life and well-being5.
So your employees' activity levels strongly influence how they feel, how well they are and, in turn, how productive they are. What's more, regular breaks, especially when they involve a change of scenery and movement, can improve concentration and alertness. This is crucial, as long periods of sitting in front of a computer screen can lead to fatigue.
These factors make a powerful case for looking at how much your employees move around, and considering ways to help them stand up more.