How to manage when caring for both your parents and your kids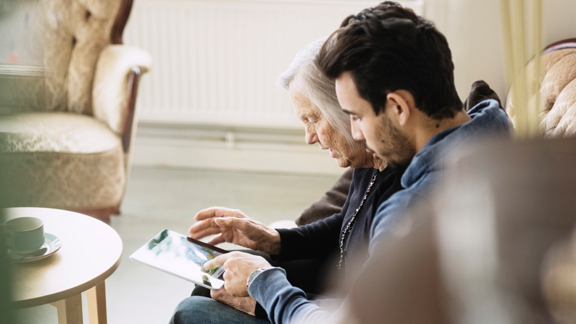 If you're juggling raising your kids with caring for parents, older relatives, neighbours or friends, you're not alone. The 'sandwich generation' shoulders multigenerational responsibilities, and the path is not always an easy one.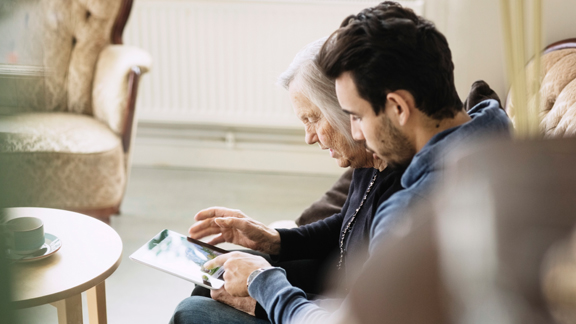 If you've found yourself in the position of being a caregiver for both your ageing relatives and your children, you're probably a member of the 'sandwich generation'.
This time of life can be very stressful, so here are some tips that may help you manage the unique issues that come with being stuck in the middle of two generations – both of which may be very demanding.
The Centre for Policy on Ageing (PDF, 1,192KB) found that 66% of sandwich carers say it has affected their physical health, while 70% reveal it's impacted their mental wellbeing.
So how can you ease the pressure and take care of yourself when you're squashed in the middle? To help get a better understanding of how to maintain a healthy life balance, here we look at some common challenges you may be facing.
Battling feelings of guilt
When you're trying to provide the best possible care for your loved ones under difficult circumstances, it's easy to feel as though you're not living up to the task. Whether you're worried about not giving your parents the emotional support they need, or you're stressed about missing out on things with your kids, guilt is a natural – but usually unwarranted – feeling.
Coping with this challenge: Remember you're only one person
It's unrealistic to think you'll be able to take all the changes and challenges that come with caring for two generations in your stride. It can be especially difficult when you don't have family nearby to help. Accept that you may not always manage everything; allow yourself time to feel guilty if you need to, and then move on. The Alzheimer's Show has a useful article about dealing with guilt.
Resentment and confusion
Your partner is struggling with the idea of inviting your parent or parents into your home, your kids don't understand why things need to change, and your parent(s) may be working through feelings of defensiveness or regret. There is no doubt that this is an incredibly stressful time, and it's no surprise if you're finding it hard to get along.
Coping with this challenge: Don't hide from hard truths
This is a huge change for your family, so don't try to brush it aside as you get on with the daily trials of caring for everyone. Talk candidly about how your family dynamics are going to change – whether that means telling your kids there might be less time for after-school activities or explaining to your parent that your child's needs will always come first. Use it as an opportunity to try and manage everyone's expectations, and find some hints and tips for managing the conversation from Aging Care.
Once everything is out in the open, you can make plans to deal with the impact and address everyone's feelings. Regular family meetings may be helpful to air frustrations and help you function as a team. Every family member will need to make compromises, but if you talk openly about the situation rather than hiding from it, you're more likely to pull together.
Feeling overwhelmed
When you're facing the large task of caring for two generations, it's completely natural to feel you are juggling too much and always playing catch-up. It can be daunting, leaving you feeling not only overwhelmed, but isolated and even helpless.
Coping with this challenge: Tap into your support network
Now is the time to speak up and talk to your extended family and friends. Of course, not all families have people nearby who can lend a hand, but even if friends and family can't help physically or practically, let them support you emotionally. Search for local support groups on reputable online resources – such as Carers UK if you're in the UK – for the chance to offload to others in similar situations.
If you have the money to hire a babysitter, carer, house cleaner or any other type of support that could take pressure off you, then strongly consider it. It may make a big difference to your wellbeing.
Sharing endless updates
You may be the primary carer for an elderly loved one, but there's a good chance that other family members will want to stay updated. When that task falls to you and you alone, it can quickly become another thing you don't really have time for, and potentially another reason to feel guilty.
Coping with this challenge: Take control of the news
Cut down on hours spent sharing the same details again and again to different people by sending group emails. Or even better, set up a private Facebook group where you can share updates when time allows and at your own pace, and members can reply and discuss your news and theirs in a shared forum.
Struggling at work
With double the responsibilities at home comes the worry that you won't be able to fulfil your role at work successfully. There may be days that you arrive late or need to leave early, as you struggle to juggle the various demands on your time.
Coping with this challenge: Manage employer expectations
It's very important to be completely upfront with your employer about the pressures you are facing at home. Be clear that you appreciate the importance of your work and will always strive to do your best, but that you currently have other responsibilities to manage. A good employer will support you to find the right solution for you both.
Getting stuck in a rut
Doing the same thing every day is tedious and can impact on your wellbeing. While spending time outside the home may seem particularly tricky with two different generations in tow, it's good for your own wellbeing to add variety to your days when you can.
Coping with this challenge: Simply do what you can, when you can
On good days, a simple walk around the park will lift spirits, while a trip to your local swimming pool or play centre can offer a welcoming environment for adults to relax while children burn off energy. Look for local fitness centres that offer yoga or gentle exercise classes designed for multigenerational families, or use YouTube tutorials to transform your living room or spare room into a mini gym.
When leaving the house is too much of a challenge (and sometimes it just is), switch on the computer. Brain-training games that test reasoning and memory skills could have significant benefits for older people1, and your kids are sure to love helping with answers.
Worrying about dementia
The whole process of ageing is fraught with worries, but remember that it's not unusual for forgetfulness or confusion to affect older people, especially when they're dealing with big changes like moving home. That said, the sooner you can spot a potential challenge, the better.
Coping with this challenge: Understand the signs
There are 900,000 people with dementia in the UK, and that's projected to rise to 1.6 million by 20402. The condition is one of the biggest challenges that families with older relatives are likely to face, so it's important to understand the signs:
Memory loss
Difficulty with tasks that involves planning
Trouble concentrating
Changes in personality and mood
Depression
Periods of mental confusion
Difficulty in finding the right words
For more advice on determining whether your loved ones are experiencing early symptoms of dementia, use the NHS dementia resource. For more information about caring for a loved one suffering from the disease, download our dementia guide.
Caring from afar
If you're living far away from your parents or older relatives, you may be beating yourself up for not being able to offer the physical support you'd like to. This can be very hard to cope with emotionally if you're settled in different countries – or even continents – from your loved ones.
Coping with this challenge: Offer remote support
Be sure to offer emotional support to those closest to your loved ones and, where possible, take on practical tasks too. You may be able to research and find the best financial options, support groups or medical care remotely, helping to shoulder some of the pressure even though you can't always be there in person.
You feel like you're falling apart at the seams
It's easy to get swept up in lengthy to-do lists when caring for your family, and even easier to forget about looking after yourself. A survey from the Alzheimer's Society found that almost 60% of carers reported feelings of guilt when seeking support.
Coping with this challenge: Remember that taking care of yourself is essential
Not only is your wellbeing important, but by taking care of yourself you'll be in a much better position to take care of your family. Remember the in-flight safety advice: put your own oxygen mask on before helping others.
Try to make time for the things you need, whether that's getting enough sleep, eating well, listening to music or going for a run. It may feel self-indulgent, but your family – young and old – will benefit from it, as you will be more resilient.