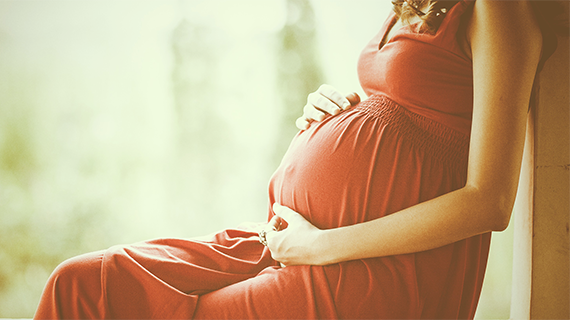 Pregnant women around the world are facing uncertainty due to the current situation but these simple strategies may help to alleviate any worries they might have.
It is entirely normal to feel anxious during pregnancy. Hormones are in flux1 and pregnant women commonly report worries about their baby's health, their changing body and ways in which their lives may be different after their new arrival. But for those who are pregnant during the pandemic those feelings may be heightened.
Dr Justin Sauer is a Consultant Psychiatrist at Bupa Cromwell Hospital specialising in stress related conditions, such as anxiety and mood disorders.
He says, 'Being pregnant can carry a mixture of emotions, and for many it is an exciting and joyful experience. But it's understandable that soon-to-be mums may have additional concerns about the impact of the pandemic on their pregnancy. From attending hospital appointments to giving birth and beyond, having to adjust to taking care of a new baby, possibly without the support of the wider family.'
Charlie Barker, founder of the prenatal personal training company Bumps and Burpees, is 26 weeks pregnant herself with her first child. She says that at her last personal appointment, 'the doctor was wearing a lot of PPE which was strange. And the waiting room was practically empty to ensure social distancing but it actually reassured me.'
As a result of the pandemic Barker moved her personal training sessions with clients, a mixture of business executives and celebrities, onto Zoom and she was surprised by how effective they have been.
'It's definitely not the same and I miss the face-to-face social interaction, but it's doing the job right now,' she says.
Some of her clients have reported feeling worried, 'It's the uncertainty of the situation that is the main factor causing worry for them,' she explains.
As for her own experience, 'I do miss getting out and about,' she says, 'but instead of letting negative feelings overwhelm me I'm focusing on the positives and the opportunity it's given me to slow down a little and take care of my body.'
Strategies to help ease anxiety
Dr Sauer agrees that this positive mindset is important: 'The COVID-19 situation will pass, so try to enjoy this wonderful time.'
This may be easier said than done, especially on challenging days. But there are ways to help mothers-to-be manage anxiety during pregnancy:
Find a support network
If things are getting too much, now is the time to ask for help. As many as one in five women have mental health problems in pregnancy or after birth according to studies published in the Lancet2.
In light of the pandemic, Charlie's antenatal support classes, which she is doing with the British charity NCT, have all moved to video calls with her group.
'Surprisingly, it still feels really interactive and social,' Barker says. 'We can see and chat with all the other couples. And although it's a shame not to be together in person, I know it'll be lovely when we do end up meeting. The teacher has made such an effort to make it as close as it can be to the normal classes. We even get little tea breaks and activities to do.'
In Dubai, Beyond Babies, one of the leading antenatal course providers, has been offering an online service since the outbreak of COVID-19, along with sessions on Instagram Lives and webinars.
In Hong Kong, The Family Zone are still running real-world classes, but in smaller groups to comply with government guidelines.
'They have been surprisingly enjoyable, probably because of the more intimate size,' Yvonne Heavyside, founder, says. 'I've also done quite a few private antenatal and baby basic classes on Zoom, which the clients seem to like as they can remain at home.'
Along with antenatal groups, there are free online groups around the world where mothers and pregnant women can come together to connect, from Cairo Mommies in Egypt to Sassy Mama in Hong Kong and Dubai, while Peanut is a global app for pregnant women and mothers.
Along with new mum friends, Dr Sauer says it's important to rely on your existing network, including your partner and your midwife.
'Even without the COVID-19 situation, being pregnant can be a challenging time and can play havoc with emotions and mood,' Dr Sauer says. 'It's so important to share your feelings, as there is support out there. Sometimes just talking can make a big difference. Help can come in many forms - whether it's sage advice or asking for support with practical matters such as getting deliveries of food or supplies. Whatever it is, don't be afraid to reach out.'
Make time for exercise
Studies show that keeping active during pregnancy leads to a range of benefits, from lessening tiredness and nausea, to reducing the chances of an emergency caesarean3 .
Along with those benefits, a randomised trial by researchers at University of Valle, Colombia found that aerobic exercise reduced depressive symptoms in pregnant women4. Other observational studies report similar benefits from exercise of improved self-esteem and reduce symptoms of anxiety and depression during pregnancy5.
Official guidelines around the world have been updated to recommend that pregnant women do keep up – or even start – 20-30 minutes of moderate intensity exercise on most days of the week6,7.
'Do try to move about and get some exercise, even if locked down at home,' Dr Sauer says.
Maintain a healthy diet
Dr Sauer stresses the importance of a healthy diet, and to help keep track Barker recommends planning what you are going to eat that day.
'It is very easy to graze all day long when you're at home and not be hungry for proper meals. Before long you'll realise that your blood sugar levels are all over the place because you're not getting a balanced diet, and this may also have an impact on mood.'
Find a way to relax
Dr Sauer says that mindfulness or meditation are helpful ways to de-stress. And a study into the benefits of an online mindfulness course showed UK researchers that it was beneficial to pregnant women who had been suffering from stress, anxiety, depression and worry about labour8.
Another practical tip Dr Sauer recommends, is not to over-consume news or engage with people who make you stressed. 'Think of yourself and what you need to do to keep your head in the right place and try to enjoy being pregnant,' he says.
Bupa Global support and resources
Bupa Global customers can access the Bupa Family Plus* service, which supports families from pregnancy and parenting, to teen years, and is available with all our policies. The Bupa Family Plus app is equipped with a range of tools to help support a healthy pregnancy, baby and family which includes:
a centring tool to help relieve stress and maintain mental health;
a library where you can look up symptoms and learn about health during pregnancy;
a place to keep a list of your appointments;
daily and weekly updates on tips and advice for every trimester
a place to connect with Bupa Global services.
If you're a Bupa Global customer and have a health concern the Global Virtual Care (GVC) service provides confidential access to a global network of doctors with remote consultations available 24/7 in multiple languages - enabling you to speak to a doctor at a time that suits you. Please visit our COVID-19 information hub for more details on how you can access our GVC service.
Alternatively, in times like this, support services such as employee assistance programmes (EAPs) really come into their own. If you have access to Bupa Global through your employer, you may be entitled to use Everyday Resources our Employee Support Programme*.
With Everyday Resources Bupa Global policyholders can access trained healthcare professionals 24 hours a day, 365 days a year, in multiple languages, via phone, email or online. They are there for confidential mental health advice, guidance and support for any work, life, or personal concerns.
*Bupa Family Plus is provided by Wildflower Health Inc, Global Virtual Care is provided by Advance Medical, a Teladoc Health Company, and Everyday Resources is provided by Workplace Options LLC all three are service providers for Bupa Global. Bupa Global is not responsible for any actions or omissions carried out by these third parties in the provision of these services.
---
1. Kumar, P and Navneet, M. Hormones in pregnancy. https://www.nct.org.uk/pregnancy/how-you-might-be-feeling/pregnancy-hormones-progesterone-oestrogen-and-mood-swings
2. Howard LM, Molyneaux E, Dennis C-L, Rochat T, Stein A, Milgrom J. Non-psychotic mental disorders in the perinatal period. The Lancet 2014; 384: 1775-88. Jones I, Chandra PS, Dazzan P, Howard LM. Bipolar disorder, affective psychosis, and schizophrenia in pregnancy and the post-partum period. Lancet. 2014; 384: 1789-99. Cited here: https://www.rcpsych.ac.uk/mental-health/treatments-and-wellbeing/mental-health-in-pregnancy
3. Petrov Fieril, K. Effects and Experiences of Exercise During Pregnancy, http://hdl.handle.net/2077/39527, September 2015.
4. Science Direct, https://www.sciencedirect.com/science/article/pii/S183695531270067X
5. National Center for Biotechnology Information, https://www.ncbi.nlm.nih.gov/pmc/articles/PMC3079921/
6. ACOG, https://www.acog.org/patient-resources/faqs/pregnancy/exercise-during-pregnancy
7. NHS, https://www.nhs.uk/conditions/pregnancy-and-baby/pregnancy-exercise/
8. Krusche A, Dymond M, Murphy SE and Crane C, Department of Psychology, University of Southampton, Department of Psychiatry, University of Oxford, UK, https://www.ncbi.nlm.nih.gov/pubmed/30099285