How to manage your child's mental health during COVID-19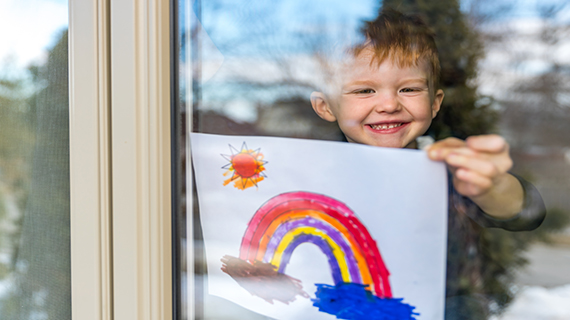 With schools and nurseries shut in some countries, and children being cut off from friends and extended family members, the fallout from the COVID-19 crisis understandably may have an impact on your child's mental health – whether they're young or older.
According to UNESCO, schools have closed in more than 190 countries around the world, with more than 90% of enrolled young people not in education. The UNESCO Director-General Audrey Azoulay has warned that 'the global scale and speed of the current educational disruption is unparalleled'1. According to a poll by the student counselling group Hok Yau Club in Hong Kong, on average, pupils said their stress levels were at a maximum 7.6 out of 10.2
It's something parents around the world are worried about. Gemma, a British mother of two living in Hong Kong, said that she is concerned about the toll this will take on her children.
'My eldest son is five and had a busy social life. We're just not used to all living on top of each other, with no childcare and limited opportunities for play dates. I do worry that he is missing friends and missing out on social contact.'
Meanwhile Andy, a father of two teenagers, who is based in the UK and CEO of a global consultancy agency, said he was similarly worried.
'My boys are meant to be doing exams, but they've been put on hold. We are attempting home schooling, but they're losing motivation. My wife and I can't supervise all day as we've got to try and balance our working from home routines too. Inevitably they end up on their devices a lot and we worry what this is doing to them long term.'
But it's not all bad news. A poll by The Hong Kong Institute of Family Education found that 75% of parents reported an improvement in their relationship with their children since schools closed in early February.3
Dr Naveen Puri, a Lead Physician with Bupa UK, reports a similar finding amongst clients in the UK. 'Some parents have reported that they feel this time has given them the chance to reconnect and be more present with their children,' he says.
Talking is key
How we communicate with children about COVID-19 is the first step to helping them feel safe, secure and maintain their mental health. Harriet Finlayson and Danielle Panton, Specialist Nurse Advisers at Bupa UK, suggest sitting down with your children and talking to them about the situation at hand. Remembering how much children of all ages absorb, and being aware of what children see, or hear, on the news.
'It's important that you provide clear information on what the situation means for them and that as a family you clear up any misunderstandings or worries they may have,' Finlayson and Panton say. 'It may be easier to talk while you're doing something, like painting or making dinner, so they don't feel put on the spot.'
Older children in particular may be concerned about what the uncertainties mean for their future. While you may not have the answers right now, it's important to start a dialogue with them about what they are feeling so that they feel supported.
Stick to a routine
Around the world children have had their daily routines turned upside down, but according to psychiatrist Chi-Hung Au, parents should create a new one to reduce anxiety and stress. Finlayson and Panton agree. 'Create plans together with your child, offering them choice where possible,' they say. 'By having clear plans, your child will know what's expected of them each day, helping them remain focused and motivated.'
For teenagers and older children that also means managing expectations around schoolwork and getting them involved with chores around the house.
Maintain social contact
Children need friends as much as adults do. A study of 100 children aged 10-12 years old found that during an unpleasant experience those who had friends they could talk to had lower levels of the stress hormone cortisol4.
So those who are missing school, nursery, visits from family members and birthday parties might find the lack of in-person social contact hard.
'Let your child know that you're also missing your friends and family,' Finlayson and Panton say. 'This will help your child know that their feelings are normal and they're not alone with this.'
They suggest keeping in touch with friends and family by writing, speaking on the phone or making video calls.
'This will help them to feel connected to others outside of the family home. For older children, allow them to have some privacy and their own space to catch up with friends.'
Get moving
Physical activity has also been shown to help children with mental health. A 2013 study published in the Journal of Clinical Endocrinology & Metabolism found that active children showed less increase in cortisol levels than inactive children when exposed to stressful situations5.
Meanwhile a separate 2018 study published in the journal Psychology Research and Behaviour Management that looked at eight to nine-year olds exhibiting anxiety found that practicing yoga and mindfulness techniques improved their emotional outcomes6.
'Exercising increases endorphins which counteracts the stress response which can be damaging to the immune system7,' Dr Puri explains. 'There are lots of online workouts that you can do at home which do not require much space if you do not have a garden – dance at home, and if daily exercise is possible go for a walk or run at quiet times or try getting them involved in your yoga class.'
Make time for playtime
Play has long been proven as an important learning tool and means of expression for children – and it's more important now than ever. Dr Jacqueline Harding, an international expert in child development and neurophysiology, recently reviewed over 100 different academic studies worldwide and found that playing with children can reduce stress, improve the immune system and boost levels of the so-called 'happy' hormone oxytocin in the brain8. In one study quoted in her report, doctors compared the effects of 'mirthful laughter' as similar to moderate exercise.
Dr Puri also recommends play as a mechanism for self-soothing during anxious times. He suggests a box full of favourite toys which help ground children and make them feel calm.
He adds that children can also play with breathing exercises, known to calm the nervous system, by using a bubble wand. 'Breathe in deeply and then breathe out – blowing a bubble through the wand as you breathe out. Notice the bubble pop and disappear and repeat until you feel calmer,' he says.
Keep calm
The World Health Organisation suggests that to help children, adults need to manage their own mental health and stress levels first9, something Dr Puri agrees with.
He says that one of the most important things is for parents to be kind to themselves.
'Remember you are doing the best you can given the circumstances and make sure you are looking after yourself.'
Bupa Global resources for customers
If you're a Bupa Global customer and have a health concern, Global Virtual Care is a smartphone application that provides confidential access to a global network of doctors. You can seek professional advice via telephone or a video call, with same-day virtual appointments available 24/7 in multiple languages. This enables you to speak to a doctor at a time that suits you. Please visit our COVID-19 information hub for more details on how you can access our GVC service.
Bupa Global customers also have access to our Healthline service, which gives access to general medical information on COVID-19 and other medical conditions (mental and physical) as well as providing advice from health professionals and referrals for a second medical opinion.
Alternatively, if you have access to Bupa Global through your employer – you and your family may be entitled to use the Employee Assistance Programme*. The programme entitles Bupa Global policyholders to access trained healthcare professionals 24 hours a day, 365 days a year via phone, email or online to talk through any work, life or personal concerns.
*Global Virtual Care is provided by Advance Medical, a Teladoc Health Company, and Everyday Resources is provided by Workplace Options LLC who are both service providers for Bupa Global. Bupa Global is not responsible for any actions or omissions carried out by these third parties in the provision of these services.
---
1. https://en.unesco.org/news/290-million-students-out-school-due-covid-19-unesco-releases-first-global-numbers-and-mobilizes
2. Social movement epidemic hits the pressure of the candidates of the diploma exam to record high, Hok Yau Club Hong Kong, 2020. https://www.scmp.com/news/hong-kong/education/article/3130023/stress-among-hong-kongs-students-and-teachers-has-risen
Lee, J. Mental Health Effects of School Closures During COVID-19, The Lancet, 14 April 2020. https://www.thelancet.com/journals/lanchi/article/PIIS2352-4642(20)30109-7/fulltext
3. Opinion Survey on the Impact of Parent-Child Relationship during Pneumonia Epidemic Suspension, Hong Kong Institute of Family Education, Feb-March 2020.
4. Adams, R.E., J.B. Santo, and W.M. Bukowski, The presence of a best friend buffers the effects of negative experiences. Developmental Psychology, 2011. 47(6): p. 1786. https://psycnet.apa.org/record/2011-19550-001
5. Higher Levels of Physical Activity Are Associated With Lower Hypothalamic-Pituitary-Adrenocortical Axis Reactivity to Psychosocial Stress in Children. Journal of Clinical Endocrinology & Metabolism, 2013; DOI: 10.1210/jc.2012-3745 https://www.sciencedaily.com/releases/2013/03/130307091552.htm
6. Effect of mindfulness and yoga on quality of life for elementary school students and teachers: results of a randomized controlled school-based study. Psychology Research and Behavior Management, 2018; Volume 11: 81 DOI: 10.2147/PRBM.S157503 https://www.sciencedaily.com/releases/2018/04/180410100919.htm
7. https://www.health.harvard.edu/staying-healthy/exercising-to-relax
8. https://www.mdx.ac.uk/news/2020/04/Fisher-Price-playtime
9. https://www.who.int/docs/default-source/coronaviruse/healthy-parenting/english-tip-5-covid-19-parenting.pdf?sfvrsn=1b3ee706_6
10. Available to all policyholders with member numbers that start with 'BI'