How being kind to yourself may help your mental health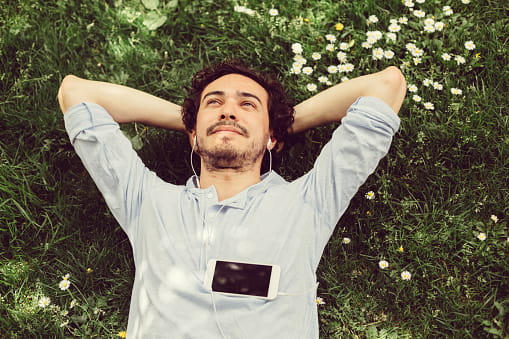 As lockdowns around the world begin to ease it's important to recognise the toll these may have taken on our mental health.
'People have had to deal with a lot of change and grapple with many losses in a short space of time,' says Helen Storey, a qualified psychotherapist and oncology counsellor at the Cromwell Hospital. 'The losses can be small ones that we barely notice on the surface, having a cup of tea with a colleague, or the space to think if you're trying to work remotely and home school. Or they can be big ones, such as not seeing family or friends, or grieving for a loved one in difficult circumstances.''
'Being kind can have several benefits for both your own mental health and that of others,' says Dr Naveen Puri, a Lead Physician with Bupa UK. He explains that not only does being kind have a biological effect on your body, as it releases the feel-good hormone oxytocin, it creates a connection with others too. 'A kind act creates a social bond and establishes trust,' he says. 'Being connected to others is vital to our wellbeing.'
Kindness could also have serious benefits to our immune system. A 2019 study published in the journal Clinical Psychological Science has found that participants who performed self-compassion exercises calmed their heart rates and switched off the body's internal "flight or fight" response. According to Dr Anke Karl, lead researcher at the University of Exeter, by switching off our threat response we boost our immune systems and give ourselves the best chance of healing.
Switch off your inner critic
But while it sounds simple, being kinder to ourselves can be hard to do. The aforementioned study also found that the participants that listened to recordings designed to induce a critical inner voice displayed an increased heart rate and a higher sweat response – indications that their bodies were stressed. So the first step to being kinder is to switch off that inner negative critic you may have.
One way to do this, Storey believes, is to develop a compassionate voice and acknowledge that life is tough right now. 'We've been in an incredibly stressful situation and there's still a lot of uncertainty about what the future will bring,' she says. 'People worry that they're not coping as well as they should. If we give ourselves permission to acknowledge this and recognise that it will continue to be difficult, and that we might struggle some days, it can lessen an additional layer of stress that we put on ourselves.'
Looking after yourself
Self-care rituals are often cited to reduce stress and are a way of being kinder to ourselves, but they don't have to be elaborate. Amanda Yik, owner of Shinrin Yoku Hong Kong, a Certified Nature and Forest Therapy practice, says she has prioritised time for herself as part of her personal wellness routine. 'For me that means spending time alone in nature, immersing my senses to reset and unwind and giving myself permission to do nothing when that is what my body needs. Doing yoga, stretching and massaging myself and having long, soothing hot baths are also some of my favourite self-care routines.'
Poppy Jamie, founder of the wellness company Happy Not Perfect (and one of Forbes 30 under 30), is a fan of simple meditation practices. 'We live a life where our brains are often disconnected from our bodies. One really easy thing to try is deep breathing for just a minute: it stimulates the vagus nerve, which in turn calms down the body by reducing the heart rate and blood pressure.'.
Be kind to others
People all over the world are volunteering their services during the pandemic, whether it's making healthcare workers scrubs or setting up food banks. Not only does it help others, but studies show that volunteering our time and expertise makes us happier and healthier. 'Knowing you have helped another person can give you a sense of purpose,' Dr Puri says.
Moreover, kindness spreads. In a study published in Proceedings of the National Academy of Sciences, researchers from the University of California, San Diego and Harvard found evidence that kindness is contagious, as people who received a kind deed in turn do something good. 'Ultimately, by being kind to others and being kind to yourself, you'll both feel good yourself and make others feel the same,' Dr Puri says.
Pause and reflect
Jamie says that before lockdown she frequently worked herself to the edge of burnout. This period has given her a chance to reflect and look at how she can shape the way she works and lives for the future. She acknowledges that the pandemic has brought tremendous challenges for many people and adds that 'lots of us are trying to notice some of the silver linings too — from bringing families closer together, to having more time to spend cooking, or just stopping and hearing the birds sing. Another thing is that I think we are valuing kindness more. This can be a time to really assess what brings joy into your life and how you can formulate a new plan with kindness at its centre.'
Bupa Global Resources for customers
Bupa Global customers have access to our Healthline service, which gives access to general medical information on COVID-19 and other medical conditions (mental and physical) as well as providing advice from health professionals and referrals for a second medical opinion.
If you're a Bupa Global customer and have a health concern, the Global Virtual Care (GVC) provides a confidential service. You will have access to a global network of doctors by telephone or video call, with virtual appointments available 24/7 in multiple languages. Please visit our COVID-19 information hub for more details on how you can access our GVC service.
Alternatively, in times like this, support services such as employee assistance programmes (EAPs) really come into their own. If you have access to Bupa Global through your employer, you may be entitled to use Everyday Resources our Employee Assistance Programme*.
With Everyday Resources Bupa Global policyholders can access trained healthcare professionals 24 hours a day, 365 days a year, in multiple languages, via phone, email or online. They are there for confidential mental health advice, guidance and support for any work, life, or personal concern.
*Global Virtual Care is provided by Advance Medical, a Teladoc Health Company, and Everyday Resources is provided by Workplace Options LLC who are both service providers for Bupa Global. Bupa Global is not responsible for any actions or omissions carried out by these third parties in the provision of these services.
---
1. Institute for Health Metrics and Evaluation, Global Burden of Disease Study, 2017.
2. Available to all policyholders with member numbers that start with 'BI'.
3. Jens Detollenaere, Sara Willems and Stijn Baert, Volunteering, income and health, March 8 2017 https://journals.plos.org/plosone/article?id=10.1371/journal.pone.0173139
4. James Fowler and Nicholas Christakis, Cooperative behavior cascades in human social networks, March 8 2010 https://www.pnas.org/content/107/12/5334