UK FOCUS: Business leaders self-medicating to cope with COVID-19 pressure
Bupa Global launched its Executive Wellbeing Index in September 2020, the first report of its kind to look at the impact of the coronavirus pandemic on global business leaders and wealth creators who will shape the post-COVID world.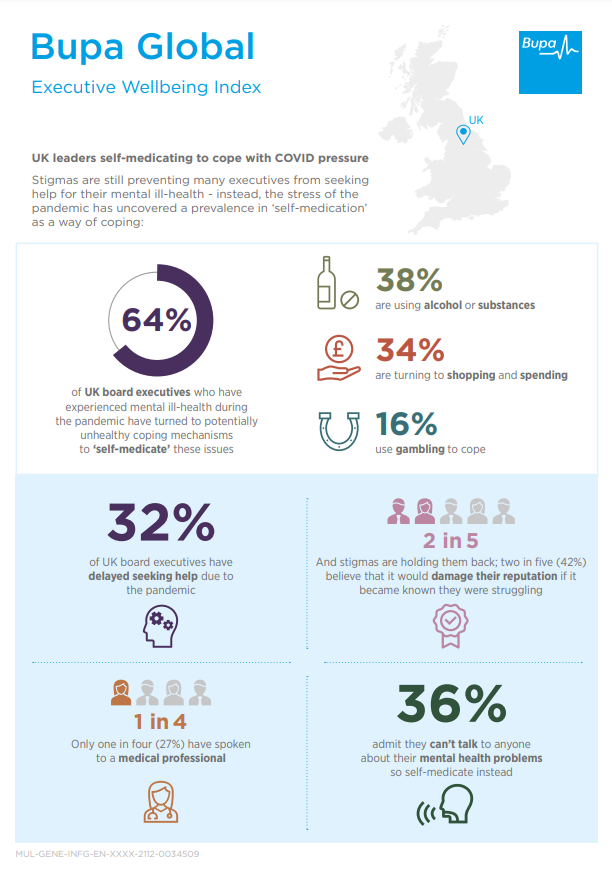 In this next instalment of the Index, we look at how stigmas are still preventing many from reaching out for much needed mental health support.
In countries such as the UK, the stress of the pandemic is leading to a prevalence in 'self-medication' with alcohol and substances, as well as potentially addictive hobbies such as gambling and shopping.
Importantly, we look at spotting the signs of self-medication in oneself, friends, colleagues, and loved ones and recognising when it is time to seek help.
Key findings from the Index include:
The mental health toll on UK business leaders has been high. Eight in 10 have experienced symptoms such as fatigue, lack of motivation, mood swings and disturbed sleep, with triggers including concerns about their business, economic recession and protecting the health of loved ones
Rather than seeking medical support or confiding in friends and family, 64% of UK board executives who have experienced mental ill-health during the pandemic have turned to potentially unhealthy coping mechanisms to 'self-medicate' these issues
Worryingly, 38% are using alcohol or substances to help them cope with poor mental health during the pandemic, with others using cigarettes or vaping, excessive exercise, over or under eating, or gambling
Despite widespread awareness of the mental health impact of the pandemic, stigmas are still preventing many from seeking the help they need. Two in five board level executives believe that it would damage their reputation if it became known if they were struggling
This has led UK board executives to delay seeking help. Only one in four have spoken to a medical professional about their mental health problems