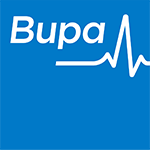 Benefits available
with all our health insurance plans
• Direct access to private doctors and specialists, without the need for a GP referral
• Health care that travels with you, the same level of cover whether you're at home or abroad
• Choose where you are treated, access to leading facilities worldwide, including Bupa Cromwell Hospital and London's Harley Street
• A second medical opinion at no extra cost
• Cover for pre-existing conditions, subject to underwriting
• A Personal Relationship Manager will call to ensure you know how to use your plan
This is a summary of the cover included in these health plans. All of our health plans carry some waiting periods, limitations and exclusions. Refer to the membership guide for full details.
Get a quote in minutes
To get a quick quote with estimated prices, all you need is:
Names and dates of birth of the people you'd like to cover
Your contact number
Your email address
Our highest level of cover
Ultimate Global Health Plan
With no overall annual maximum limit, extensive GP consultations and genetic cancer screening – this health plan offers our most comprehensive cover. As an Ultimate customer, you become one of our Bupa Global Private Clients.
• A dedicated Service Relationship Manager will take care of the paperwork and manage your claims, speak to the consultants, and offer round the clock support for every aspect of your health
• No overall annual maximum claim limit
• Genetic screenings for cancer to help safeguard your wellbeing
• Recovery from serious illnesses in medically prescribed health resorts
• Thorough well-being checks to protect your future health
• Cover for up to two children under 16 at no extra cost, subject to underwriting, plus an extensive maternity package after the first 10 months
Need help choosing a health insurance plan?
Speak to one of our advisers by calling +44 (0)1273 025 816 from 8am to 6pm GMT Monday to Friday.
Calls may be recorded and monitored
Bupa Global is the sole insurer of this plan.
The details on this page are representative of products available but benefits do vary according to country of residence. To see products and benefits available in your country of residence please get a quote.
Products in this country are a collaboration between two of the most respected names in global healthcare, Bupa Global and Blue Cross Blue Shield Global.
Products including U.S. cover provide access to the largest networks of healthcare providers worldwide, utilising both the Blue Cross Blue Shield networks in the U.S. and Bupa's networks outside the U.S.
Bupa Global is a trade name of Bupa, the international health and care company. Bupa is an independent licensee of Blue Cross and Blue Shield Association. Bupa Global is not licensed by Blue Cross and Blue Shield Association to sell Bupa Global/Blue Cross Blue Shield Global co-branded products in Argentina, Canada, Costa Rica, Panama, Uruguay and US Virgin Islands. In Hong Kong, Bupa Global is only licensed to use the Blue Shield marks. Please consult your policy terms and conditions for coverage availability. Blue Cross and Blue Shield Association is an association of independent, community-based and locally operated Blue Cross and Blue Shield companies. Blue Cross Blue Shield Global is a brand owned by Blue Cross and Blue Shield Association. For more information about Bupa Global, visit bupaglobalaccess.com, and for more information about Blue Cross and Blue Shield Association, visit BCBS.com.