Diversity in the workplace is more important than ever as we emerge from the pandemic – both for the mental health of employees and commercial gains.
Great strides have been made in recent years around the world to make sure that companies are more diverse and inclusive than they have been. Not only is it good for the individual, but time and again it has been proven that a more diverse and inclusive workforce makes prudent business sense.
According to data in the 2021 McKinsey & Company report, Diversity wins: How inclusion matters, companies with at least 30% women executives were more likely to outperform companies with fewer women executives, while outperformance is likely to be even higher for ethnic diversity at the top.1
It is something that, according to Bupa Global's latest Executive Wellbeing Index2, is becomingly increasingly more important: overall, 28% of the global leaders surveyed said they wanted to see more inclusive leadership in their workplaces, skyrocketing to 68% of those based in the United Arab Emirates.
It is something that as Richard Hadnum, managing partner at NorthStart, a recruitment agency in Dubai, says has to start from the top. "My experience of workforce inclusion is that there is no action without a senior executive to drive through change. It is the only way to go from ideas to action. It's not a switch that can be flicked, it involves holding a mirror up to an organisation and committing to a long journey."
Bupa Global's data shows that 83% of international organisations plan to recruit more women, with 80% intending to increase ethnic diversity and 78% wanting more people with disabilities in the boardroom. "Boardrooms – and offices more generally – benefit from the engaged participation of ALL its members, and that is what the ultimate goal of a Diversity, Equity and Inclusion strategy should be," Nadjia Yousif, managing director and partner at the global management consulting firm, Boston Consulting Group (BCG), and the Diversity and Inclusion lead for the company, says.
This is particularly important as we emerge from the pandemic. According to the authors of the McKinsey report, "I&D is a powerful enabler of business performance. Companies whose leaders welcome diverse talents and include multiple perspectives are likely to emerge from the crisis stronger."
The reason being that, "Diverse teams have been shown to be more likely to radically innovate and anticipate shifts in consumer needs and consumption patterns."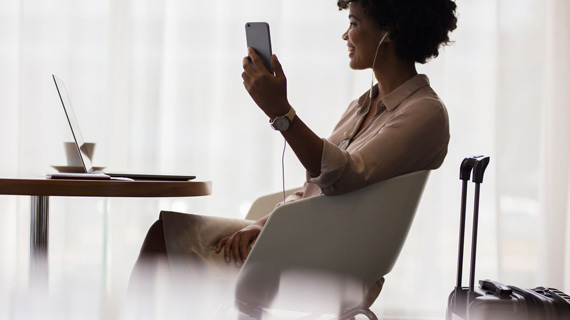 Mental health gains
Diversity at work is also important for mental health – both on an individual level, and company-wide. "There's no doubt that post lockdown we should be better equipped to have a more inclusive workplace," Dr Pablo Vandenabeele, Clinical Director for Mental Health at Bupa says. "When people see that the boardroom is more diverse, they are more likely to recognise people like themselves, which makes them feel more included. These employees can see how they can progress within the organisation and be successful. This improves self-esteem and therefore improves mental health."
It is worth the effort, agrees Hadnum. In the organisations his company has supported in recruiting disabled applicants, "it has translated into a happier and proud workforce" as well as happier customers. "Everybody wants to tell their neighbour about the hotel, coffee shop or restaurant that is walking the talk and doing their part to make the UAE a more inclusive society."
Glass ceiling
But there is still a long way to go. According to 2021 research by BCG, while all S&P 500 boards have at least one woman on the board, still most Fortune 500 CEOs are straight, white, cisgender men. The It's Time to Reimagine Diversity, Equity, and Inclusion report found that while up to 75% of companies worldwide have diversity programmes, the effects are yet to be noticed by employees. Up to 75% of employees said that they do not feel a personal effect from them and up to 55% reporting that they still experience discrimination.3
This has very powerful risks to employee wellbeing. "It's inevitable that if you don't feel that you fit into the workplace and don't feel supported, your wellbeing will be negatively affected," Dr Vandenabeele says. "This will impact performance, concentration and sleep. If you're not happy in your environment, you're not going to thrive, and your mental health will become negatively compromised."
Many companies know they need to do more. According to Bupa Global's Executive Wellbeing Index, 26% of executives say that they are planning up to a 25% increase in ethnic diversity to their boards over the next 3 years, 21% are planning up to a 25% increase in people with disabilities to their boards and 17% say there will be an increase in LGBTQ+ workers.
Pandemic helped accessibility and flexibility
The huge shake up to working life caused by worldwide lockdowns could actually help their aims. More than 30% of those surveyed in Bupa Global's Executive Wellbeing Index say the pandemic has made the workplace a more inclusive environment, with 42% saying there are more flexible working hours and another 35% saying there is increased flexibility for parents or those with caring responsibilities – with the biggest increase in flexibility in the UAE.
For some with accessibility issues, removing the commute helped. "Personally, I was grateful for the temporary step-down in having to commute to work as I was pregnant for nine months of lockdown," Yousif says.
As well as benefiting existing employees, international executives also believe that more flexible work patterns will help attract new, diverse talent, according to Bupa Global data. "Organisations are far less geographically dependent now and given that most are moving towards a hybrid working style, employers and employees are now presented with an opportunity to not necessarily be commutable to their office. It gives flexibility on both sides that hasn't existed before," Neil Kirby, Marketing & Sales Director at Bupa Global says.
He adds that it is a "good opportunity" to work out ways of working that fit with employees' needs. "There are some things that we have to do in synchronicity with others, such as attend a meeting or a performance appraisal but there are other things that are asynchronous such as writing up a performance appraisal which can now be done at a time that suits the employee."
Holistic survey of needs
One stumbling block when it comes to talking about diversity and inclusion in the workplace, according to Yousif, is putting people into defined boxes. "Recent BCG research has shown that businesses need to go beyond the "traditional" segmentation of its workforce by gender, sexual identity and race to uncover the emotional needs which fuel job satisfaction and ultimately lead to greater productivity, advancement and retention," she says.
Meaning that an employee can have multiple inclusion needs, ranging from physical disabilities to ethnicity to dependents at home to care for. "You need to holistically survey all your employees to understand for an individual what their needs are and then offer the individual the flexibility, 1:1 mentoring or community-building to make them feel supported."
In this way, she says, "you will uncover patterns of demands or needs that traditional segmentation hides, such as male caregivers having the same needs as first-time mothers."
It is a win-win scenario. "Finding out what works for the individual is a unique and valuable opportunity for companies to make their employees happier," Kirby adds.
---