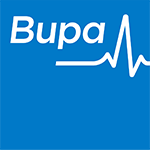 The British United Provident Association Limited and its group companies ("Bupa") and Worldwide Insurance Services, operating under the trade name GeoBlue ("GeoBlue"), are committed to maintaining the privacy and security of your personal information collected through the website www.bupaglobalaccess.com (the "Website") and Bupa/GeoBlue mobile app (the "Mobile App"), which provide information resources to Bupa members seeking care inside the United States and internationally. Bupa and GeoBlue shall be referred to collectively as "Bupa/GeoBlue, "us" and "our" under this privacy policy." This privacy policy (the "Privacy Policy") discloses Bupa/GeoBlue's information collection and dissemination practices in connection with the Website and Mobile App and applies solely to the information that we collect through those channels. This Privacy Policy does not address personal information that you provide to us in other contexts (e.g., through a business relationship not handled through the Website). For information on how Bupa handles your data outside of the Website and Mobile App, please refer to the data privacy in your policy documentation.
Acceptance of Privacy Policy
In order to use the Mobile App or submit personal information through the "Contact Us" feature of the Website, you are required to confirm your acceptance of this Privacy Policy; for the Website your consent is confirmed by you clicking the box at the end of the Contact Us page, (and if you use the Website without submitting personal information through the "Contact Us" feature, then your use of the Website will constitute your acceptance of this Privacy Policy); for the Mobile App, as advised under Section 12 of the Application License Agreement for use of the Mobile App, your acceptance of the Application License Agreement confirms your acceptance of this Privacy Policy in relation to your use of the Mobile App. By doing the above, you expressly consent to your personal information being treated, transferred, stored and otherwise processed in accordance with the terms of this Policy. You also consent to Bupa/GeoBlue collecting and using technical information about your devices and related software, hardware and peripherals used with the Website and Mobile App and related services that are internet-based or wireless, to improve our products and provide services to you.
What this Privacy Policy Covers
This Privacy Policy covers how Bupa/GeoBlue treats personally identifiable information that it collects and receives through this Website and the Mobile App. "Personal Information" is information about you from which you can be personally identified and which relates to you (e.g., your name, address, e-mail address or phone number).
Personally Identifiable Information Collection and Use
We do not collect Personal Information about you on the Website or through the Mobile App without your knowledge or action, save as set out in this Privacy Policy (in particular, please see the section titled AUTOMATICALLY COLLECTED INFORMATION AND ANONYMOUS INFORMATION below). Your information is collected to the extent that you use the "Contact Us" feature of the Website or Mobile App. This information includes, but is not limited to, your name, membership identification and email address and any other personal information that you choose to include in your message. We may use your Personal Information to:
provide the products and services offered by Bupa/GeoBlue through this Website and the Mobile App;
improve our products and services;
update you on new products, special offers or other information which we think you may find interesting, using the email address or other contact information that you have provided (you may opt out of receiving any such marketing information by contacting us at the address given below)
customize the Website and Mobile App according to your interests.
Please note that this information may be transferred to, and stored/processed in, the USA and/or servers based in other countries around the world. By agreeing to the terms of this Privacy Policy, you therefore expressly consent to your personal information being transferred and/or stored and/or processed in this way.
Disclosure of Personal Information
Disclosures to Certain Third Parties
We will not disclose your Personal Information to any third parties, with the exception of any subcontractors or agents that we contract with, and other Bupa group companies:
to assist us in providing this Website and Mobile App;
to assist us in providing any products or services offered by Bupa/GeoBlue through this Website and the Mobile App,
provided that any such subcontractors or agents shall agree in writing to comply with the privacy and security standards set forth in this Privacy Policy.
We may also share non-personal data with:
advertisers and advertising networks that require the data to select and serve relevant adverts to you and others; we do not disclose information about identifiable individuals to our advertisers, but we may provide them with aggregate information about our users - we may also use such aggregate information to help advertisers reach the kind of audience they want to target, and we may make use of the personal data we have collected from you to enable us to comply with our advertisers' wishes by displaying their advertisement to that target audience; and
analytics and search engine providers that assist us in the improvement and optimisation of our site.
Disclosures Under Special Circumstances
Bupa/GeoBlue may provide information about you to respond to subpoenas, court orders, legal process or governmental regulations, in the context of actual or potential legal actions, or to establish or exercise our legal rights or defend against legal claims. We believe it is necessary to share information in order to investigate, prevent or take action regarding illegal activities, suspected fraud, situations involving potential threats to the physical safety of any person, or as otherwise required by law.
Business Transfers
If another company acquires our company or our assets, that company will thereafter possess the Personal Information collected by us, and will assume the rights and obligations regarding your Personal Information as described in this Privacy Policy.
Automatically Collected Information and Anonymous Information
Mobile Users. When you install the Bupa/GeoBlue Mobile App on your smartphone or other mobile device, Bupa/GeoBlue will collect your personal user data from the device, including mobile device identification (UDID, device ID, etc.) and geographic location data. By giving consent for the Mobile App to use location services, we will collect longitude and latitude data, which will help us to analyse use ractivity. The Mobile App will make use of location data sent from your device using GPS to keep the Mobile App active. This location data will not be made publically available to other users of the Mobile App. You can turn off this functionality at any time, and withdraw your consent, by turning off the location services settings for the Mobile App on your device.
Aggregated Data. Bupa/GeoBlue collects aggregate queries for internal reporting and also counts, tracks, and aggregates the visitor's activity into Bupa/GeoBlue's analysis of general traffic-flow at the Website and through the Mobile App. To these ends, Bupa/GeoBlue may merge information about you into aggregated group data. In some cases, Bupa/GeoBlue may remove personal identifiers from Personal Information and maintain it in aggregate form that may later be combined with other information to generate anonymous, aggregated statistical information. Such anonymous, group data may be shared on an aggregated basis with Bupa/GeoBlue's affiliates, business partners, service providers vendors and/or analytics and search engine providers; if it does so, Bupa/GeoBlue will not disclose your individual identity.
We collect information on visitors' activity on the Website and Mobile App. This is commonly referred to as 'web analytics' information, which may include information such as where the visitor has come from (eg referring domains, search engines, marketing campaigns), pages viewed, the site path of the visitor, which content visitors are clicking on, which products visitors are interested in and purchase. We do not collect any personal information (eg name, address, email address) using the web analytics but we do collect IP addresses. Bupa/GeoBlue does not link any 'web analytics' information to an individual.
Web Server Logs and IP Addresses. An Internet Protocol ("IP") address is a number that automatically identifies the computer/machine you have used to access the Internet. The IP address enables our server to send you the web pages that you want to visit, and it may disclose the server owned by your Internet Service Provider. Bupa/GeoBlue may use IP addresses to conduct website analyses and performance reviews and to administer the Website and the Mobile App.
Cookies and Web Beacons. Cookies are pieces of information that a website or mobile application transfers to a user's computer or mobile device for purposes of storing information about a user's preferences. Cookies in and of themselves do not personally identify users, although they do identify a user's computer or mobile device, and it may be possible to identify you as a result of this. Many websites use cookies as a standard practice to provide useful features when a user visits the website and most web browsers are set up to accept cookies. Bupa/GeoBlue uses cookies to understand online behavior, and to improve your online experience when visiting the Website and using the Mobile App. You can set your browser to refuse cookies, but some portions of the Website and Mobile App may not work properly if you refuse cookies. Some of the Website's web pages may use web beacons in conjunction with cookies to compile aggregate statistics about website usage. A web beacon is an electronic image (also referred to as an "action tag," "single-pixel," or "clear GIF") that is commonly used to track the traffic patterns of users from one web page to another in order to maximize web traffic flow and to otherwise analyze the effectiveness of websites. Some web beacons may be unusable if you elect to reject their associated cookies.
You can read our full cookie notice and review details of cookies operating on the Website on our Cookies page.
In the Mobile App, "Properties" are used for storing application related data in key-value pairs. These Properties persist beyond application sessions and device power cycles. The Properties we store in the Mobile App include:
User ID
User's current selected location
List of user's recent locations
List of saved items.
Boolean flag to check if "Terms of Use" has been accepted
Security
Bupa/GeoBlue understands that storing your data in a secure manner is essential. Bupa/GeoBlue stores Personal Information and other data using reasonable physical, technical, organizational and administrative safeguards to secure data against foreseeable risks, such as unauthorized use, access, disclosure, destruction or modification. Although we make good faith efforts to store the information we collect in a secure operating environment that is not available to the public, we cannot guarantee complete security. Further, while we make every effort to ensure the integrity and security of our network and systems, we cannot guarantee that our security measures will prevent third-party "hackers" from illegally obtaining this information.
Links to Other Websites
You may be able to access certain information related to third parties at the Website and Mobile App, or via links, banner ads or clickthroughs from the Website and Mobile App, including certain links to co-branded or other affiliated sites. Unless otherwise explicitly stated, we are not responsible for the privacy practices or the content of such websites, including such sites' use of any information. Bupa/GeoBlue recommends reviewing those websites' privacy policies individually.
Children's Privacy Protection
Under Age 13
We understand the importance of protecting children's privacy in the interactive online world. The Website and the Mobile App are not designed for, or intentionally targeted at, children 13 years of age or younger. It is not our policy to intentionally collect or maintain information about anyone under the age of 13. No one under the age of 13 should submit any personal information to Bupa/GeoBlue.
Under Age 18
Minors under 18 years of age may have the Personal Information that they have provided to Bupa/GeoBlue while using this Website or the Mobile App deleted by sending an e-mail to info@bupaglobalaccess.com requesting deletion. Please note that, while we make reasonable efforts to comply with such requests, deletion of your personal information does not ensure complete and comprehensive removal of that data from all systems.
Response to "Do Not Track" Signals
Some Internet browsers include the ability to transmit "Do Not Track" signals. Since uniform standards for "Do Not Track" signals have not yet been adopted, Bupa/GeoBlue does not process or respond to "Do Not Track" signals.
Correcting, Updating or Deleting Information
The Website and the Mobile App gives users the option to correct, update or delete any information previously provided to us by the user; however, we will maintain copies of user information to the extent retained as part of our Website and Mobile App's standard backup/archive processes. Such information shall be retained for no longer than is reasonably required for the purposes described in this Privacy Policy. In addition, these procedures will not remove such of your information that has been provided by you to, or collected from you by, the websites of our business partners. We are not responsible for ensuring the removal or deletion from the websites of our business partners of your information provided by us to our business partners as permitted by you or otherwise in accordance with this Privacy Policy, but we will make reasonable efforts to seek our business partners' compliance where possible.
To make changes to your contact information, or to request details of the personal information that we hold in respect of you, please contact us in one of the following ways:
Send an e-mail to info@bupaglobalaccess.com.
Send a written request to:
Bupa/GeoBlue
US Service Center
Palmetto Bay Village Center
17901 Old Cutler Road, Suite #400
Palmetto Bay, FL 33157
Changes to this Privacy Policy
This Privacy Policy is available at all times to all users of the Website and the Mobile App at www.Bupaglobalaccess.com. This Privacy Policy may be revised from time to time as we add new features and services, as laws change, and as industry privacy and security best practices evolve. We display an effective date on the upper left corner of this Privacy Policy so that it will be easier for you to know when there has been a change. If we make any material change to this Privacy Policy regarding use or disclosure of Personal Information, we will provide advance notice on this Website and the Mobile App. Small changes or changes that do not significantly affect individual privacy interests may be made at any time and without prior notice. You assume the responsibility of periodically reviewing this Privacy Policy and Bupa/GeoBlue encourages you to refer to this Privacy Policy on an ongoing basis so that you understand the current Privacy Policy. Unless stated otherwise, the most current Privacy Policy applies.
Questions?
If you have any questions about this Privacy Policy or about Bupa/GeoBlue's handling of your information, please contact info@bupaglobalaccess.com.
I hereby consent to my personal information being collected, transferred, stored and otherwise processed in accordance with the terms of this Privacy Policy.