Tough marathons around the world 2018-2019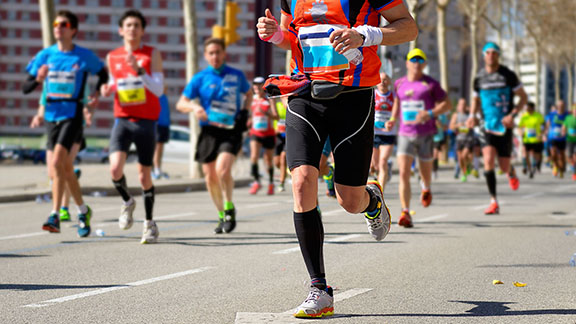 Have you ever thought about running a marathon in a different country? Training for a marathon abroad offers a great sense of achievement and opportunities for fun once you finish, in a new setting that you may not see the same way otherwise.
From the Great Wall of China to the Inca Trail, there are countless opportunities to run marathons around the world, so time to get your marathon training plan in order for your next challenge! Here are some of the toughest marathons around the world to give you something to aim for, and perhaps a few trips in the diary.
Midnight Sun Marathon - Tromsø, Norway
Date: June 16th 2019
Terrain: Mostly flat road
Conditions: Relatively cold but very sunny
Starting with our most unique and northernmost marathon, the Midnight Sun Marathon in Norway should definitely be on the bucket list of every seasoned marathon runner. With the race starting at 8.30pm the assumption is that you would need a torch to be running in the dark, but with 24 hours of continuous daylight during summer months, you're more likely to need a good pair of sunglasses. Watch out for the cold temperatures and the elevation of up to 50 metres on the Tromsø Bridge.
Jungfrau Marathon - Interlaken, Switzerland
Date: September 7th-8th 2018/2019
Terrain: Mountainous - steep climbs ending at 2,320 metres above sea level
Conditions: Sunny but can get chilly, much of the course take place at a high altitude
Known globally as one of the toughest mountain marathons, the Jungfrau Marathon in Switzerland offers a 1,823-metre ascent from start to finish, winding its way through Zweilütschinen, Lauterbrunnen and Wengen. At the highest point runners are traditionally greeted by a bagpipe player, complementing the superb views as you head towards the finish line at Eigergletscher.
The Great Wall Marathon - China
Date: May 19th 2019
Terrain: Flat surface but with 5,164 steps to tackle
Conditions: Can be very warm and humid - between 25-35 degrees celsius
Rather than simply walk the Great Wall, why not run a marathon on it instead? The Great Wall Marathon takes place in May every year, offering a unique course for runners looking for an extra challenge. With fantastic views over surrounding countryside and villages, there's nothing quite like running on one of the world's most famous landmarks, but be prepared for the 5,164 steps that are integral to the route.
Inca Trail Marathon - Cusco, Peru
Date: June 2nd-10th/August 4th-12th 2018 (2019 TBC)
Terrain: rocky trails and uneven steps, steep ascents and descents
Conditions: fairly warm, between 14-16 degrees celsius
Another marathon taking place in a famous location, the Inca Trail Marathon is touted as the toughest in the world, considering that regular tourists take between 4-5 days to complete the route. Don't expect spectators or a fanfare at the finish line though - only 30-40 take part in the marathon each time and the packages to compete are usually upwards of $3,000.
Australian Outback Marathon - Australia
Date: July 28th 2019
Terrain: Mostly flat, with a transition from road to sandy desert track
Conditions: Hot and dry - around 20 degrees Celsius on average
While this Australian Marathon route is very flat, the transition from solid road to the soft red earth of the outback trails can be difficult to run on. However, runners will have the superb sight of Ayers Rock to enjoy as they pace across the dry desert route.
Antarctic Ice Marathon - Union Glacier, Antarctica
Date: December 13th 2018 (2019 TBC)
Terrain: Relatively flat with ice and snow underfoot
Conditions: Very cold - multiple layers required to combat temperatures of -20 degrees Celsius
For the ultimate adventure marathon, the Antarctic Ice Marathon is possibly the greatest challenge for a regular runner. It also happens to be the southernmost route on our list, taking in beautiful Antarctic mountain ranges from a relatively flat, ice and snow course. If you can cope with the 10-25 knot winds and the registration fee of €15,000, this run is the pinnacle of adventure marathons.