Your essential guide to Parisian living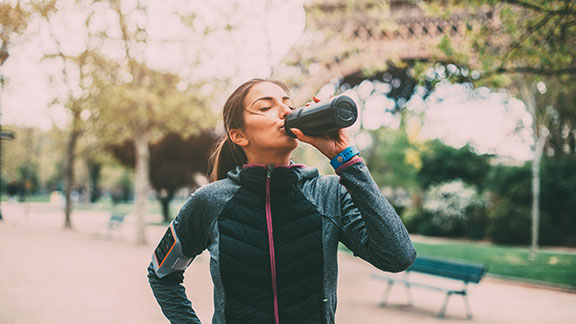 Paris is one of the most visited cities in the world – in 2017 it attracted a whopping 17.5 million international visitors, outdone only by London and Bangkok1. Climb the steps at Montmartre, take a stroll along the Seine or tuck into gourmet cuisine at the Haut Marais and it's easy to see why. Charms aside, how does Paris fare when it comes to healthy living?
We asked freelance journalist and Paris resident Helen Massy-Beresford about her time living in the famous city. She describes Paris as beautiful, compact and populous – something that brings with it both pros and cons.
While exquisite buildings and galleries are plentiful, green spaces are not. However, it's not hard to commit to healthy eating with the ready availability of high-quality, fresh ingredients, and wholesome eateries are growing in number to balance out the classic Parisian restaurants.
Keeping cool and content in a crowded world city
As Europe's most densely populated capital, Paris is full, busy and not without its grimy elements. Central arrondissements can feel crowded, and accommodation is often modest in size.
Knowing how and where to take a break from city life is vital, as urban living can negatively affect mental wellbeing2, while green spaces enhance it3. According to the City of London Corporation, just 9.4% of Paris is dedicated to public green spaces4, but there are havens to be found5. Try the quaint and car-free Rue des Thermopyles, or one of these parks:
Parc des Buttes-Chaumont: A beautiful, dramatic space occupying a former quarry in Belleville, north-east Paris. "It's a nice place to enjoy nature," Helen says. Close by, Parc de Belleville boasts uplifting views.
Bois de Boulogne: 865 hectares of landscaped gardens to the west of the city.
Jardin de Luxembourg: Small but central and good for children.
Parc Monceau: A favourite of Helen's, located in the 8th arrondissement. Quirky, pretty and peaceful.
Bois de Vincennes: The city's largest public park, located to the east and boasting a racetrack, a small farm and more. Nearby, the Parc Floral de Paris hosts outdoor concerts every summer.
Jardin des Plantes: Paris's main botanical garden, with over 10,000 species, tropical greenhouses, alpine gardens and more.
When it comes to venturing further afield, Paris's compact configuration is an advantage. "I moved from London, and it's much easier here to get out of the city," Helen says. "Around an hour by train and you're in rural France. I used a great book called An Hour from Paris to find day trips."
If you find yoga relaxing, Helen says there's no shortage of classes in Paris. "My husband is into mindfulness and yoga, and he's currently trying out different venues in our neighbourhood, near Montmartre." Elsewhere, popular studios include Paris Yoga Shala and Le Tigre.
Meditation centres are also easy to find. Among them are Qee, at four locations, the École Occidentale de la Méditation, for introductory sessions without religious affiliations, and the Centre de Méditation Kadampa Paris, a centre for French Buddhism6.
When it comes to work-life balance, Helen feels there is definitely a clearer division between the two compared to life in London. "People leave work behind when they finish for the day, and they tend to take proper lunch breaks."
Also noteworthy is a new 'right to disconnect' law, meant to reduce digital burnout. Implemented in January 2017, it requires all companies with 50 employees or more to define the hours when staff should not send or answer emails. Bear in mind that how effectively this ruling is applied may vary, depending on your workplace.
Keeping fit
Paris's close-packed layout has benefits for fitness fans – many journeys within the city are manageable on foot or by bike. Helen's husband cycles regularly and speaks highly of the city's cycle lanes. Vélib' is the public bike-sharing network, with over 20,000 bikes in circulation. "There are pick-up stations on practically every street," Helen says.
"In London I had a routine that involved lots of walking," Helen says. "In a way, Paris is less conducive to that because it's so busy and built-up. It took me a while to find routes I liked. On the other hand, it's often as quick to walk somewhere as to take the Metro."
Parks like the Jardin des Tuileries provide a less-congested option, away from traffic pollution. Strava, a 'social network for athletes', recommends these routes. If you're a swimmer, you'll find an abundance of impressive pools, from Art Deco gems to steel-and-glass creations.
Helen recently signed up to an outdoor yoga boot camp in the Jardin des Tuileries, and she does sessions with a personal trainer in a local park. "It's expensive but nice to exercise outside, and my thinking was I would definitely go to the sessions, whereas with a gym membership I probably wouldn't."
Eating healthily
"I think the French relationship with food is very healthy," Helen says. "People want food that's cooked properly with proper ingredients, and they want to sit down and enjoy it. Eating in front of a screen is seen as less normal than it is in the UK."
Healthy fast-food options can be scarce outside of office-dominated areas. "You'll often be limited to a baguette from a bakery, but you can buy amazing fresh ingredients, so eating well isn't difficult on the whole. There's also a growing trend towards vegan and vegetarian restaurants, and raw food."
Abattoir Végétal and GreenHouse Paris are among Helen's favourites. "Over the last few years there has been an explosion in the number of organic shops and in organic produce in normal supermarkets. Another tip for healthy eating is to buy vegetables from the various markets around the city. They're cheaper and there's lots of variety." Marché d'Aligre is one to try.
Finding tranquil spots and suitable locations for outdoor exercise can take some effort in Paris. However, with easy access to rural France, excellent swimming pools, a pro-cycling mayor and a lively healthy-eating scene, it offers many options for the health-conscious expat.