Uncover Barcelona's expat lifestyle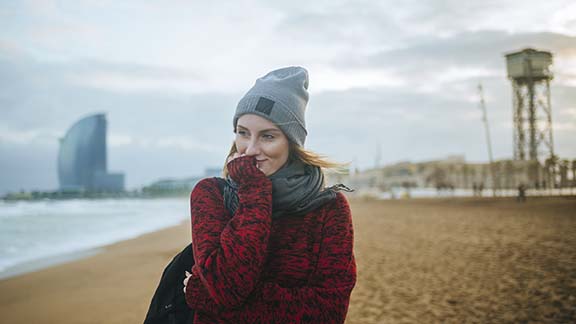 Thanks to the Catalan capital's warm climate and proximity to both coastline and mountains, residents spend as much time outside as they do at their desks. So it's no wonder Barcelona attracts expats from around the world. Here's some advice for newcomers keen to embrace the health and wellbeing benefits the city has to offer
Our expat informer, 28-year-old Lucie Buisson, hails from a picturesque town in Burgundy. She lived in Milan and London before relocating to Barcelona in September 2016, and after more than a year in this stylish city, she's convinced that the Catalan capital's year-round warm climate has had a hugely positive impact on her overall wellbeing.
"Because the weather's so good, it encourages you to get outside as much as possible," she says. "I have a very active lifestyle here and don't feel like I lack exposure to the sun and natural light, which I've found to be a problem in cities where bad weather means you spend a lot of time indoors."
Lucie's not the only one enjoying the mood-enhancing benefits of a sun-kissed lifestyle. As the ninth-sunniest city in Europe, basking in an average of 2,524 hours of sun annually1, Barcelona was ranked 11th by expatriates in terms of general living situation in the InterNations Expat Insider 2016 survey. Barcelona also came out on top in the 'Personal Happiness' subcategory and fourth in the 'Feeling Welcome' subcategory of the Ease of Settling In Index2.
Embracing the great outdoors
Having accepted a customer success manager position at a tech startup, Lucie initially lived near one of Barcelona's urban beaches before moving to Sant Antoni, a residential neighbourhood quickly gaining a reputation as the city's trendsetting, hipster enclave. For Lucie, one its main draws is its proximity to her office, meaning she's able to cycle to and from work.
"Barcelona's very different to other cities," she admits. "You can afford to live in the centre, and this proximity to work means I have time to go for a jog first thing in the morning. I hardly ever take public transport as it's so easy to cycle. When the Barcelona cycle scheme [a pay-as-you-go bike rental scheme known as Bicing] was first introduced there were no lanes, but now there are routes everywhere."
And while city living suits Lucie, she says many of her colleagues with families opt for quieter suburbs in downtown Barcelona, where they can afford to rent a larger house as opposed to a centrally located apartment. El Poblenou's emphasis on outdoor living and the Mar Bella Beach area make it a popular option, while Sant Cugat is only a 40-minute train journey away. Surrounded by woodland, and with two international schools, it's a favourite among expats seeking a tranquil Spanish town not too far from the buzzing Catalonian capital.
Arranged on a USA-style grid system, with the Pyrenees to the north and the Mediterranean to the south, Barcelona is pretty straightforward to navigate. Barcelona has also launched a mobility plan which aims to make the streets less congested and more pedestrian and cycle friendly.3
The city centre is dotted with parks and green spaces – including the play areas at Parc de l'Estació del Nord, which are perfect for families with young children, and the boating lake at Parc de la Ciutadella. And Barcelona's location, sandwiched between mountains and coastline, makes it really easy for residents who want to escape to the country. Many locals and expats follow hiking trails and ferratas (meaning 'iron roads' – steel cables used for rock climbing) in Montserrat, which can be reached in under an hour from the city centre.
"Beach volleyball is really popular here," Lucie says. "And Montgat Beach has several courts that are always busy at the weekend. Because it's close to the centre, Barceloneta Beach is always full of tourists, but it's easy to find quieter 'local' beaches like those at Sitges and Castelldefels." Next to the sea is also Parc de Diagonal Mar – with its many waterslides and pools, it's great for keeping children entertained.
Striking the right work-life balance
After five years in London, Lucie finds life in Barcelona to be much less stressful. "When I lived in the UK, I didn't have the best work-life balance, and was constantly looking forward to the holidays."
And while the good weather definitely helps with stress levels, she's a fan of the locals' laid-back attitude to life. "People in the north of Spain have a reputation for being a bit colder or less friendly than those from the south, but I think it's been easy to get to know people. Catalans don't take themselves too seriously; people don't really dress up to go out and even office attire is very casual."
This relaxed approach is also apparent in workplace attitudes to cultivating a healthy work-life balance, with many offices opening and closing early on Fridays so that people can enjoy outdoor activities – a practice referred to locally as jornada intensiva.
"Catalans are proud of being more European than the rest of Spain, so siestas don't really exist here," Lucie explains. "Some shops shut in the afternoon, but office hours are usually nine to five. Flexible working is catching on, and while working from home isn't that common, things are changing as expats come here from other countries with different work practices."
Describing herself as a "massive yogi", Lucie supports her mental wellbeing by heading to Jivamukti studio a couple of times a week and uses podcasts to help her meditate and practise mindfulness. "I suffered with anxiety when living in London, but I feel much happier here – being active helps and I use an app called GymForLess that lets users locate and sign up to gyms and classes across the city."
Eating well
Enjoying more exercise isn't the only change Lucie has embraced since moving to Barcelona. "I was vegetarian when I arrived here, but recently decided to go vegan. Luckily, the city's a lot more international than other parts of Spain, and new vegan places are opening all the time. The supermarket chain Mercadona recently introduced a vegan line, and when I eat out I usually head to Flax & Kale."
This highly Instagrammable venue on Plaça Castella is just one of the restaurants leading the plant-based movement in the city, with Sésamo and The Green Spot also commanding a loyal following.
"Spanish cuisine tends to centre on barbecued meat and fried fish, and vegetarianism isn't that common," Lucie says. "However, waiters are usually happy to accommodate veggie requests. When it comes to being vegan, it can be a bit tricky to be spontaneous when eating out, but with a bit of research you'll find somewhere."
And what about alcohol consumption? "I think I might drink a little bit more than I used to because of the emphasis on going out, but people take a practical approach to the late nights by going home after work for a nap and then heading out around 9–10pm. An early night here would be going home at 1am, but that's fine by me. I want to make the most of my time here!"