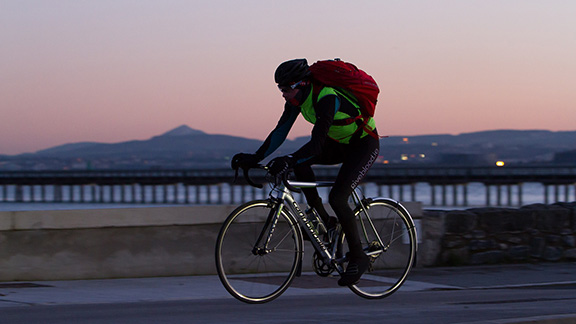 Cycling holidays present a unique challenge, but also an amazing opportunity to see some awe-inspiring landscapes on the two wheels of your bike.
From towering views over the Dolomites from the Stelvio Pass to the spectacular climbs of Cap de Formentor in Majorca, there are plenty of iconic cycle routes that will form the basis of your next unforgettable holiday. If you are up for the challenge, have a read of our top picks of rewarding cycle routes in Europe.
1. Stelvio Pass - Dolomites, Italy
Terrain: Difficult, mountainous terrain
Views: At 2757m above sea level, they are some of the best in the world
Best time to visit: All year round, although May or June is cooler. Set out early to avoid tourists
Why should it be on your bucket list: Aside from being a stage of the Giro d'Italia, the Stelvio Pass has also been made famous by Top Gear and a certain very famous scene in The Italian Job.
As the highest paved mountain pass in the Eastern Alps, the Stelvio Pass has earned itself international acclaim due to its frequent inclusion in the Giro d'Italia. This grand tour takes place mainly in Italy but has also been known to start in other countries such as France, Belgium and even Israel.
Stelvio offers some of the most fascinating views in the world, especially when you are standing so high looking over the Dolomites and beyond. Subsequently, tourists have flocked to the pass on bikes, motorbikes and supercars given its status as one of the best stretches of road in the world. Plan your route right and you will have Stelvio to yourself, even though it can get very busy at peak times during the day, and over summer months such as July and August.
If you don't mind the busy periods, plan your trip around Stelvio Bike Day, which takes place on the last Saturday of August or the first Saturday in September every year, and be amongst 12,000 other cyclists taking to the route.
2. Helgeland Coast, Norway
Terrain: Relatively flat, moderate terrain
Views: Coastal islands with mountainous backgrounds
Best time to visit: June-August are ideal months with very long days, though it is peak season for tourists during this time
Why should it be on your bucket list: Cycle far enough and you can cross into the Arctic Circle and witness the fabled midnight sun
Stretching from Brønnøysund in the south to Mo i Rana in the North, The Helgeland Coast covers over 7,000 square miles of Norway, and is made up of thousands of tiny islands, referring to the northernmost area of Norway before you cross over into the Arctic Circle. Time your trip right and you will witness blazing sunlight at midnight local time (during the June and December solstices), allowing for very long, uninterrupted cycling days.
The fascinating landscape of this Norwegian coastal region, including the shallow lowland area of Strandflaten, along with the Seven Sisters mountain range, is more than enough to encourage cyclists from all over the world to visit. This moderate route means the terrain isn't too challenging, though you should plan your route wisely so that you don't overface yourself with the distance.
3. Cap de Formentor - Majorca, Spain
Terrain: Varied coastal routes with gradual climbs
Views: Coastal, with mountains in the south
Best time to visit: Spring months of March-June for good weather and less tourists
Why should it be on your bucket list: The varied terrain has led to Majorca being labelled a 'cyclists playground', attracting many professional teams of cyclists who use the routes for practice
Otherwise known as the meeting point of the winds, Cap de Formentor is just one area of Majorca's coast where cyclists have flocked to in their droves. Many professional cycling teams, such as Team Sky, use Majorca in the early part of the year at the start of the cycling season, as the varied terrain makes for the perfect training ground, especially in areas such as Alcudia, Playa de Palma and Playa de Muro.
More recently the Majorca 312 was set up as a tour of the island for cyclists keen on ticking the island off their bucket list. Originally a circuit of the entire island, the tour now takes a more rugged route through the Serra de Tramuntana mountains, and takes place in April every year.
4. Alpe d'Huez - Western Alps, France
Terrain: Difficult mountainous terrain with steep climbs
Views: Fantastic views of the French Alps at 1,850 metres above sea level
Best time to visit: During spring months from April to June once the snow has melted
Why should it be on your bucket list: It has frequently been used in the Tour de France, making for a particularly difficult summit finish
In 2018, the Alpe d'Huez cycling route in the Western French Alps was used for the 30th time in the Tour de France, where pro cyclists competed for the coveted yellow jersey. The 13.8km route was completed in a record time of 37 minutes and 35 seconds by Marco Pantani in 1997, and hasn't been beaten since.
Cyclists from all around have visited the area to follow in the cycle tracks of many famous professional cyclists, taking on the 21 hairpin bends for themselves and revelling in the superb views from the summit. Fans of the sport will undoubtedly come across this route during research, and may find themselves encouraged to visit as part of a cycling holiday, or even during the Tour de France itself to cheer on favoured competitors.
5. Salzkammergut - Salzburg, Austria
Terrain: Varied terrain, mountainous in parts dropping down to flat lakeside road
Views: Mountain ranges and picturesque lakes
Best time to visit: Between May-October provides the best weather for cycling
Why should it be on your bucket list: The route is known for the best uninterrupted cycling in the world along with having breathtaking panoramic scenery
Whether you consider yourself a well-travelled cyclist or a complete amateur, the Salzkammergut cycle route has something for everyone. Overall, it passes 13 lakes in the Austrian countryside, and is over 300 kilometres in length, making it ideal for all levels of experience.
If you have plenty of time to spare, you might want to explore some of the local towns on your route during flatter sections of the Salzkammergut, or even take on some of the more mountainous areas such as Schafberg or Hallstätter See. Wherever you end up, Salzburg has a lot to offer the keen cyclist including varied terrain, beautiful landscapes and peaceful roads.