Digital tools that help make life easier for an older generation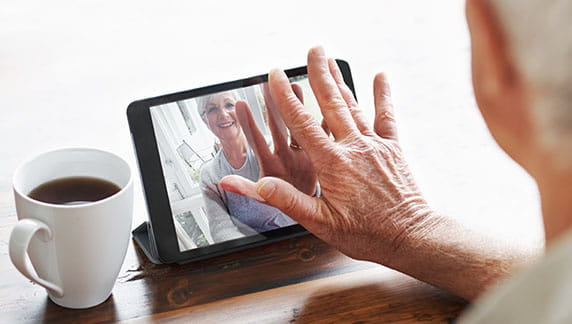 Here, we review some apps and technologies that can make a real difference to those in their older years.
Baby boomers might be getting older, but they're not slowing down. With savings, spare time and technology at their fingertips, there's no better opportunity to get out and enjoy the world. But naturally, our retirement years see our life routines – and our bodies – change. The following digital tools can make all the difference when it comes to overcoming common challenges.
Taking control of the home
'Smart homes' offer a number of features that can improve anyone's quality of life – particularly those who may have limitations to their mobility. Here are just a few:
By controlling smart devices and household features like lights, thermostats, kettles and televisions, Amazon's voice-controlled digital assistant - Echo - can play a big part in assisting independent living. It can also be accessed remotely by users outside the home.
Wearable activity trackers can alert loved ones to worrying activity patterns that may indicate medical problems or accidents immediately.
August 'smart locks' keep track of when people leave and enter the home, and allow doors to be opened or locked remotely.
Robots to help us see
There are already a number of GPS-based devices available, including BlindSquare, that can tell users where they are and guide them to specific addresses. Other apps, such as TapTapSee, can help people identify objects they encounter in their daily lives: they simply take a photo of anything, at any angle, and the app tells them what it is.
Digital help for the hard of hearing
Technology for people with hearing impairment is increasingly available: the Halo hearing aid app, for example, automatically adjusts the volume of a person's hearing aid according to noise levels. It can also remember your set locations so it knows where you are automatically and adjusts your hearing aid to the settings for that location.
It can also directly stream phone calls from your iPhone to your hearing aid, allowing clear and comfortable conversations.
Staying connected with friends and family
With more people opting to work, study and holiday abroad, it's not uncommon for family and friends to find themselves many miles apart from their loved ones.
But technology can help shrink the distance: online call services like Skype and messaging apps like WhatsApp and Voxer enable individuals and groups to share text, voice, image and video messages over the internet.
Meanwhile, social media platforms like Twitter and Facebook help people connect with old and existing friends – and make new ones. 73% of Americans aged 50 to 64 now use social media, according to Pew Research1.
Technology that adjusts to our changing bodies
The nerves in our fingers can lose sensitivity over time, but this needn't affect connectivity. In 2015, Apple revealed a partnership with IBM to deliver iPads with specially tailored apps for seniors2. These have large, easy-to-read buttons, and adjustable settings to help vision- and hearing-impaired users to get online. Handsets designed with a marginally slower response time can also tell the difference between a swipe and a prolonged tap.
Stay sharp with brain training
A game developed by the University of Cambridge could help improve the memory of patients in the earliest stages of dementia3, and it provides further evidence of the importance of maintaining mental agility as we age. Subscription-based Peak is one of a number of brain-training apps that support cognitive skills such as memory, mental agility, problem-solving and communication.
Technology that gives us a nudge when needed
Voice-activated digital technology can help users remember appointments or to take pills at specific times. Round Health, for example, allows users to set schedules and doses, and when used in conjunction with the Round bottle – a bottle that syncs with smartphones using Bluetooth – it can provide pop-up reminders when a prescription is running low.
With a growing number of devices and apps available to support connectivity, health and wellbeing, mature users can take advantage of technology to make their lives easier in simple but meaningful ways – helping the whole family reap the shared rewards of improved communication and greater peace of mind.