How executives can spot areas of concern and proactively help their teams
In light of a challenging economic climate, stubborn inflation and a hyper-competitive business landscape, it's perhaps no surprise that business leaders across the globe are reporting mental health issues. Indeed, according to Bupa Global's recent Executive Wellbeing Index1, 17 per cent of senior executives say they're currently experiencing burnout (including 30 per cent in Egypt, 22 per cent in China and 17 per cent in the UAE, UK and US), and 19 per cent of executives globally say they need to prioritise a positive work-life balance.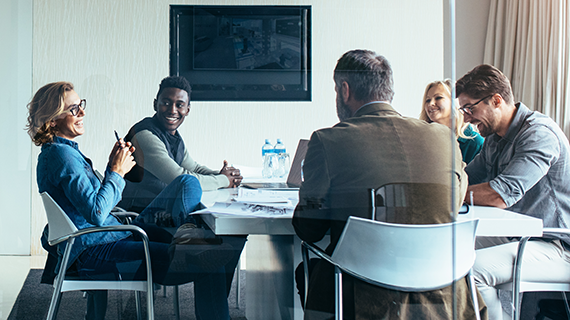 While it's vital that executives take proactive steps to improve and maintain their mental wellbeing at work, it's also crucial that business leaders are able to recognise the signs of stress in their employees and foster a mentally healthy environment where they are able to seek help if they're experiencing issues.
Dr Naomi Humber, Head of Mental Wellbeing at Bupa Health Clinics has a number of practical tips for business leaders who want to better protect their teams and make mental health a priority in the workplace.
1. Create an open dialogue and commit to meetings
It can be difficult to speak up about mental health concerns, and business leaders have a crucial role to play in creating a culture where open dialogue is encouraged. The first step is to proactively encourage employees to open up if they have a wellbeing concern, or are experiencing stress, and taking the time to listen to their issues.
She says: "Many leaders have an open-door policy, but that doesn't necessarily mean that staff feel able to discuss their problems. Even seemingly trivial, small signs show people that you want to hear what they have to say. To show you're paying attention, turn off your phone and email when you meet with staff, maintain eye contact and actively listen."
And, she says, if you're too busy to meet, it's crucial to postpone a meeting until a more convenient time.
"Instead of putting in a half-hearted effort to pay attention when you have something else on your mind, postpone the conversation until you're able to properly engage. But be careful to commit to a time, rather than an open ended 'come back later,' which could put staff off from making a new appointment."
Remember too, that not every communication forum works for every member of staff. While monthly meetings are a regular part of life for many organisations, some team members may be uncomfortable raising issues in front of their peers. It's important to offer multiple communication channels, from one-to-one meetings, to virtual 'drop in' sessions and more informal catch ups.
2. Ask for and accept suggestions
Communication and teamwork are vital in making things better for your team. Asking them for suggestions on how to improve the working environment is an important part of protecting staff wellbeing and fostering a culture where good mental health is prioritised.
Creating forums for ideas to be shared is important, whether that's regular meetings, a suggestion box or the invitation to email ideas and suggestions.
Naomi says: "Obviously, leaders won't necessarily be able to take on every idea that their people have. However, showing your team that you are willing to consider your approach based on someone else's idea is a powerful reinforcement of an open and collaborative culture. Of course, it's crucial to consider both neurotypical and neurodiverse needs of the team and consider carefully how to effectively communicate with different members of the team."
Again, she says, open dialogue is key to making this tactic a success. She says: "If someone has a suggestion that you don't believe can be adopted or won't work, explain that to them and include the reasons why – being careful to show appreciation and welcome their thoughts and ideas. Don't accept the idea, thank them for coming and then ignore it completely. They will only take that as a sign that you don't really value what they have to say."
3. Ensure employees feel valuable and valued
When someone has a great idea and it's implemented successfully, it's important to publicly give them credit for it. While it may sound obvious, this is often overlooked. Giving credit will show that you are appreciative and lets employees know that they're valuable and that their contribution to the organisation is important.
Naomi comments: "Recognition for good work is a really important part of protecting staff wellbeing. When we feel valuable and that our bosses value our input, we're more likely to feel satisfied at work. And it doesn't need to be a big thing – a simple thank you is often enough to help employees feel that they're properly appreciated. It pays, of course, to ensure you thank everyone who contributes – rather than singling out one 'shining star'."
4. Encourage staff to use the resources available
Many organisations have policies, procedures, and resources in place to formally support staff wellbeing. This may include crucial benefits such as an Employee Assistance Programmes (EAP), which is designed to support on both personal and work-related issues, with the aim of increasing staff wellbeing and productivity, as well as reducing absences.
However, these sorts of programmes are only valuable if staff know about them, how to use them, and are encouraged to take up the support offered. It's important to ensure that employees know that this type of assistance can be preventive, rather than something simply to be used in an emergency, and that taking a more proactive approach in supporting your wellbeing is likely to help reduce moments of crisis.
Indeed, as well as slowing mental health related absences, this proactive approach may help alleviate the trend of 'presenteeism,' where employees continue to work when they are ill, injured or suffering from another condition, which means they are unable to perform to their full ability.
Naomi says: "We know that presenteeism can be a mental health related issue caused by stress and burnout. Since the start of the COVID-19 pandemic, 60 per cent of UK adults2 have said their mental health has worsened – so it's really important that staff are given the opportunity to address their challenges, and do so quickly."
---
Bupa Global – Resources for Customers
If you're a Bupa Global customer and have a health concern, the Global Virtual Care (GVC) service provides confidential access to a global network of doctors by telephone or video call, with virtual appointments available 24/7 in multiple languages – enabling you to speak to a doctor at a time that suits you.
Additionally, Bupa Global customers also have access to our Healthline service, which gives access to general medical information (mental and physical) as well as providing advice from health professionals and referrals for a second medical opinion.
If you have access to Bupa Global through your employer – you will be able to access Bupa LifeWorks, our Employee Assistance Programme. This service entitles Bupa Global policyholders' access to trained advisors 24 hours a day, 365 days a year, via phone or online to talk through any work, life, or personal concerns.
Global Virtual Care and Second Medical Opinion are provided by a third party, Teladoc Health, directly to you. Bupa LifeWorks is provided by a third party, LifeWorks, directly to you. Bupa Global assumes no liability and accepts no responsibility for information provided by these third parties, or the performance of the services.
---