Travel guide: Keeping healthy in Hong Kong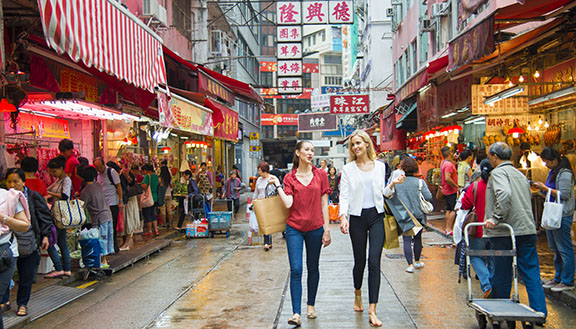 Relocating can be challenging as well as exciting – not least when your destination is a densely populated, ultra-modern metropolis. But alongside the city's sparkling skyscrapers there are plenty of green spaces in which you can take time out from the hectic pace of life to exercise and rest.
With seven million residents and the world's freest economy, Hong Kong is a cosmopolitan city that melds Chinese and Western influences. Ranked among the world's 10 most densely populated cities, with 68,400 people per square mile1, Hong Kong Island has more skyscrapers than any other city in the world2. While there are drawbacks to living in this populous environment, a healthy, active lifestyle is possible.
First, you'll find plenty of choice in terms of food, sports facilities and leisure activities. Second, only 25% of the Hong Kong Special Administrative Region (SAR) is inhabited3. There are country parks, marine parks and conservation areas occupying 40% of the land4. Think wooded hills, dramatic peaks and sandy beaches, with plenty of paths and trails to explore.
Originally from the UK, Andrew Sharkey moved to Hong Kong in 2003 and works in the finance industry. He lives with his wife and three young children in the Mid-Levels area of Hong Kong Island, midway between downtown Central and Victoria Peak, the island's highest point. "Hong Kong Island is the most international part of the region," Andrew says. "It's also compact – from where we live you can be almost anywhere within 25 minutes."
Finding healthy food
According to the UBS Prices & Earnings 2015 report, Hong Kong has the world's longest working hours5. "It's usual to work until 7 or 8pm, and supermarkets are very expensive, so there's a big temptation to eat out rather than cook at home," Andrew says. "There's definitely a takeaway and eating out culture."
On the positive side, wholesome options are increasingly available if you find yourself short of time for cooking. A 2016 report by the Global Agricultural Information Network found that demand for healthy foods is rapidly increasing in the region6. "There's a fast turnover of restaurants, so the variety is tremendous," Andrew says. "When I arrived, only a handful offered healthy choices, but now there are many dotted all around Hong Kong."
Mana! in the Central district promises 'fast slow food' that's nourishing, plant-based and hand-prepared. Andrew recommends Home, a café similarly focused on fast but healthy foods. Also in Central are the Genie Juicery and Nood, with its pre-packaged snacks and salad bar. Organic 21 is run by a local NGO that sources ingredients from its organic farm in Yuen Long.
"When it comes to eating in, we regularly order from specialists who offer home delivery," Andrew says. His family uses Homegrown Foods for seasonal fruit and vegetable boxes, and other organic suppliers. "Eating healthily in Hong Kong isn't cheap," he adds, "but living here also means 15% tax, so it's a case of pros and cons."