Travel guide: Keeping healthy in Dubai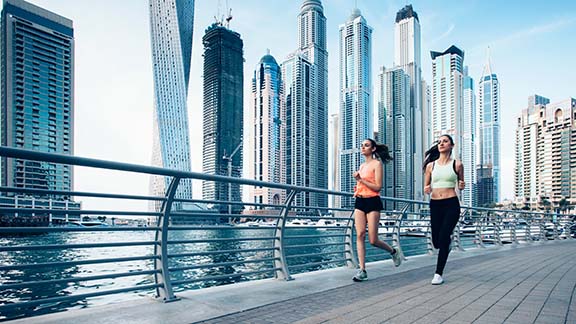 Bursting with glamour and boasting an ever-expanding skyline that includes the world's tallest building, Dubai attracts both tourists and ambitious professionals. Read on for our guide to living a healthy life in the 'City of Gold'.
Once a quiet fishing port, Dubai began its transformation in the 1990s. Today it's one of the most populous cities in the United Arab Emirates (UAE). Home to expatriates from around the globe, this city of superlatives is also the world's most cosmopolitan1, with plenty to inspire food lovers, fitness fiends and outdoor explorers.
Will Dowling is an airline pilot from Sydney, Australia, who moved to Dubai in 2015 and now lives in the Arabian Ranches with his wife and daughter. "The city is continually developing and growing, so there are always new places to eat, new sports to try and new social opportunities," he says. "There's a lot of choice."
Finding healthy food
According to a study commissioned by Al Ahli Holding Group, government efforts to promote healthy eating in the UAE are taking effect. Of 1,000 respondents, more than a third said they were making conscious efforts to eat fresh fruits and vegetables2. "Most people I meet here are health conscious," Will says.
The city offers a wealth of healthy options for eating out and in. Its thriving restaurant scene boasts countless international cuisines – from easily available, authentic curries to Michelin-starred eateries in six-star hotels. Healthier choices are plentiful. Highlights include: 77 Veggie Boutique at the Tiffany Tower (look up their Meal Packs too); Comptoir 102 for snacks, smoothies and juices and Biorganic Café for additive-free fare.
"Cooking at home is popular with people who live in villa complexes, away from the busiest areas like the Marina," Will says. "I find I can buy 99 per cent of the ingredients I would've bought back home. Also, the choice of fresh fruit and vegetables has increased over the past years. More is being grown within the UAE."
Will recommends Ripe Markets, held regularly in locations across Dubai. They aim to bring together local people and local food producers in a fun and social way, with stalls selling organic produce, live cooking demos, yoga, children's activities and more.