Health-boosting fitness regimes for men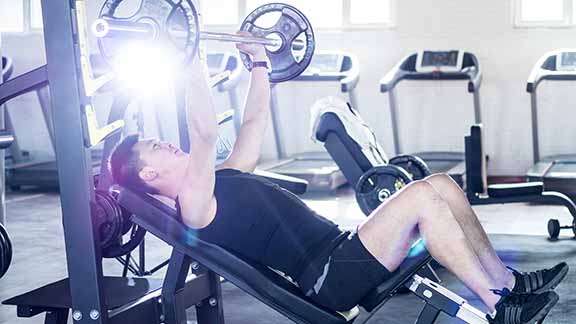 Why not take a minute to give your wellbeing levels a spot-check? Thomas Hood, our Bupa health advisor, offers a few tips to help you improve your exercise habits.
Deadlines, work travel, social events, life admin – the pressures of a busy life are manifold, and when leisure time runs low exercise is often squeezed out. Ditching your workout might save you some time in the short term, but it's a false economy. As Bupa health advisor Thomas Hood explains, building a varied exercise routine into your daily life is critical to maintaining your health in the long term.
The next time you consider skipping the gym, or you decide you're too busy to commit to a new class, take a few minutes to think about the benefits of using one hour out of your day for yourself.
Here are a few health-boosting fitness options that you can easily incorporate into your busy life.
How do I improve my posture?
Focus on your core strength
How many hours a day do you spend sitting in a car, at a desk or squeezed onto public transport? If you're struggling with neck or back stiffness and pain, it may be due to bad posture.
Thomas says the best way to tackle poor posture is by focusing on the two main contributing factors: carrying too much weight, and a lack of core strength. "The beauty of core exercise routines is that they quite often require very little specialised equipment, so can be completed from home, during the lunch break in the office or in any area with sufficient floor space, for that matter," he says.
Core-strengthening tips: For guidance in getting started, check out classes available at your local gym. Circuit training, Pilates, yoga and high-intensity interval training (HIIT) all include core-strengthening routines. Once you're confident, you can easily practice alone.
Benefits: The upsides to working on your core range from reducing lower back pain and stiffness to preventing more serious spinal-alignment issues.
Additional benefits: Good posture can also improve your confidence and self-image, help your digestion and improve your breathing efficiency.
How do I reduce my blood pressure?
Increase your aerobic exercises
If keeping your heart as healthy as possible is important to you, or you've been diagnosed with hypertension, it's time to give aerobics a go.
Thomas explains that high blood pressure is often symptomless, but the most common lifestyle-related causes include too much stress, alcohol, salt or saturated fat, and of course smoking.
Aerobic exercise offers the perfect way to alleviate three of the main causes of high blood pressure by helping with stress management, weight loss and improvements in vascular control with circulation.
Aerobic exercises to try: Running, swimming and cardio fitness classes are ideal. If you're struggling for time, even a 45-minute spin session on your bike or a 20-minute walk over your lunch break can help.
Benefits: Thomas explains that "a reduction of just 10mm/hg pressure has been linked with 13% and 27% reductions in all-cause mortality and stroke risk respectively", and aerobic exercises help to lower blood pressure.
Alongside the obvious weight management benefits of a regular routine with aerobic exercise, it can also act as a great form of stress management.