Cutting down on caffeine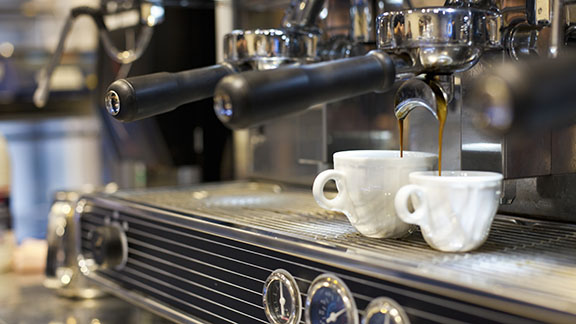 The appetite for coffee is steadily increasing, with boutique offerings and branded chains serving up short macchiatos, long blacks and everything in between to caffeine fans around the world. But when it comes to maintaining a healthy lifestyle, what should you know about your daily dose?
According to the International Coffee Organization (ICO), the international demand for coffee will increase by nearly 25% by 20201. However, conflicting reports of how caffeine consumption can impact your health can be confusing.
Research carried out in 2016 by the International Agency for Research on Cancer (IARC) – a group of international cancer experts convened by the World Health Organisation (WHO) – found no strong evidence that coffee increases your chances of cancer2. But, unsurprisingly to many coffee drinkers, too much caffeine can cause short-term symptoms including heart palpitations, insomnia and dizziness3.
"In moderation, coffee shouldn't do you any harm," says Luke Powles, Bupa dietician and health coach. "Caffeine is a stimulant and acts on the central nervous system, increasing heart rate, which in turn can make you feel more energised and alert."
However, Luke also notes: "Excessive consumption can cause problems, as it can affect your sleep and cause dehydration, headaches, irritability, anxiety, stomach issues and light-headedness. It is important to be mindful that some caffeinated drinks also contain a lot of sugar, which poses its own risks to staying healthy when taken in excess."
How much is too much?
In 2015, the European Food Safety Authority (EFSA) published its Scientific Opinion on the Safety of Caffeine, stating that adults consuming up to 400mg of caffeine per day – and single doses of 200mg – should not be exposed to safety concerns4.
However, it's important to remember that caffeine is not confined to coffee, as your total daily consumption is also made up from soft drinks, energy drinks and tea, as well as chocolate.
A mug of instant of coffee contains around 100mg, while a mug of filtered coffee contains around 140mg of caffeine. If you're also taking in energy drinks, be aware that there's about 80mg of caffeine in a 250mL can, and some smaller 'energy shots' can contain anywhere from 80mg to 160mg of caffeine in a 60mL bottle5.
The UK's National Health Service (NHS) recommends that pregnant women should have no more than 200mg of caffeine a day6, as high levels of caffeine might cause miscarriage and can result in babies having a low birth weight, which can increase the risk of health problems in later life.