For the first time working from home is being seriously adopted by those at executive level, according to new research by Bupa Global, and it's providing serious benefits.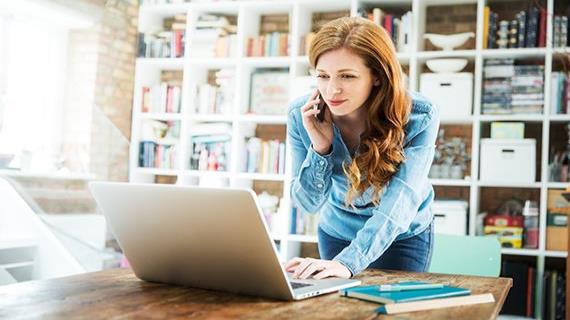 Thanks to the impact of COVID-19, the world of work has had to evolve faster than ever before and working from home is the now more common, even at executive level. 'Pre-COVID-19, many executives could not see beyond their own experience of working in an office environment,' says Mason Donovan managing partner for The Dagoba Group, an international consulting practice, and the author of The Golden Apple: Redefining Work-Life Balance for a Diverse Workforce.
Now many want to keep up the benefits including less commuting and more time with their families, according to the results from the Bupa Global Executive Wellbeing Index. The Index asked nearly 2,000 senior executives based across Europe, North America, the Middle East and Asia about their new working habits post pandemic. It found that over half of global executives do not plan to return to the same fast pace of life following the pandemic, which rises to six in ten for chief executives1.
'The pandemic shutdown imposed a remote working situation for everyone and by all accounts shown to date, productivity did not suffer, which has changed the attitude towards a more progressive remote workforce opportunity,' Donovan says.
Colin Leckey, a partner at the commercial law firm Lewis Silkin, which has offices in Hong Kong and the UK, says he is one of the new converts. 'Like billions of others, COVID-19 made the decision for me. But there is no doubt at all that in my industry – law – as in many others, we have proved to ourselves that we can run our practices and our businesses perfectly effectively from our homes.'
Reaping rewards
The reason is down to the huge upsides it can bring. 'There are many advantages from big ones like cutting out the crowded commute with your face wedged into someone else's armpit and getting to spend more time with your family instead, to smaller ones like it no longer being a major logistical exercise if you need to arrange for someone to be in if a parcel is being delivered or if a tradesperson needs to come round,' Leckey says.
But a major benefit could be one to your health. A new study, published earlier this year in the journal BMC Public Health, surveyed 32,000 working adults and found that those who worked longer and reported poor work-life balance were twice as likely to say their health was poor2. One of the benefits of rewriting the work playbook is that now, according to Bupa Global's research, 16% of executives will now discourage work outside of working hours in a bid to improve the work-life balance3.
Dr Pablo Vandenabeele, Clinical Director for Mental Health at Bupa Global, says that creating boundaries is a positive and necessary step, that we have long needed. 'For a long time, we have seen that the digitalisation of work has caused us to blur the boundaries between private and work life,' Dr Vandenabeele says. 'Indeed, we know that many execs struggle to refrain from answering emails last thing at night and first thing in the morning.'
Remote working also provides benefits to clients, according to Donovan, who has discovered this at his own office since moving to a virtual service. 'Travel, especially international travel which accounted for 50% of our work, would absorb 40% of our work time, which means, 100% of our work time can be devoted to working with our clients as well as reducing the stress on our consultants. Plus, every morning and night can be spent at home with our families.'
The research from Bupa Global confirms a similar trend amongst companies worldwide: many executives who had spent an average of 48 days abroad or away overnight from family last year are now planning to reduce business travel both for personal and environmental reasons. One in four (26%) plans to stop all time spent away from home in the coming year4. Instead of flying, Yaser Sheikh, Director of Facebook Reality Labs, has predicted that Virtual Reality will be more prominently used.
Staying connected
Leckey explains the benefits of technology during this time, 'I haven't had an in-person meeting with a client since before lockdown, but interestingly, I see my clients "face to face" a lot more than I did before – I just do it through platforms like BlueJeans, Zoom, Microsoft Teams and so on,' Leckey says. 'It's really interesting to me that we've defaulted to video conference calls with clients whereas in the office we'd have used the telephone – in many ways this makes it easier to build more meaningful relationships with contacts, now we're seeing the insides of their homes and they ours,' Leckey adds.
Dr Vandenabeele says that these social connections are important to maintain, in order to preserve our sense of identity. 'This can be done by ensuring you have daily (and ideally at a similar time) periods whereby you go out of the house and engage with the world but also ensure that some degree of social connections with colleagues is maintained.'
Long-term solutions
The changes we're experiencing are leading to a better future, according to Sheldon Kenton, Managing Director of Bupa Global, 'The changing way we do business, a chance to reflect on our familial as well as environmental responsibilities, helps set a blueprint for greater wellbeing in years to come.'
Leckey thinks the future will be more of a hybrid of remote and in person working. 'I imagine there'll nearly always be a video joining option for any meeting of significance,' he says. 'Long term, I think it's going to be about getting the balance right at an individual level: I think most people will want to spend about half their time working from home and about half their time in work with their colleagues, but there will be individuals at the extremes of the spectrum on either side, and there is no reason why we shouldn't accommodate personal preferences as far as possible.'
Dr Vandenabeele says that the home boardroom can become a long-term solution, as long as we make the necessary adjustments. 'In order to make working from home a success, it's important to maintain the boundary between work and private life,' he says. 'This can be done by ensuring that your workplace at home is located in a separate part of the home (this does not always have to be a separate room but can even be a separate desk), for you to maintain set hours (as you would do in the workplace), have scheduled lunch breaks, and make clear arrangements with those living with you what is work time and what is family time.'
Bupa Global resources for customers
Bupa Global has resources to help you and your family cope. If you're a Bupa Global customer and have a health concern the Global Virtual Care (GVC) service provides confidential access to a global network of doctors by telephone or video call, with virtual appointments available 24/7 in multiple languages - enabling you to speak to a doctor at a time that suits you. Please visit our COVID-19 information hub for more details on how you can access our GVC service.
Bupa Global customers also have access to our Healthline service, which gives access to general medical information on COVID-19 and other medical conditions (mental and physical) as well as providing advice from health professionals and referrals for a second medical opinion.
Alternatively, if you have access to Bupa Global through your employer – you and your family may be entitled to use the Employee Assistance Programme. The programme entitles eligible Bupa Global customers to access trained healthcare professionals 24 hours a day, 365 days a year via phone, email or online to talk through any work, life or personal concerns.
Global Virtual Care, Second Medical Opinion and Bupa Lifeworks are not regulated by the Financial Conduct Authority or by the Prudential Regulation Authority. Global Virtual Care is provided by Advance Medical, a Teladoc Health Company, and Bupa Lifeworks is provided by Lifeworks who are both service providers for Bupa Global. Bupa Global is not responsible for any actions or omissions carried out by these third parties in the provision of these services.