Adjusting to lockdown during COVID-19 has been hard for families around the world – but coming back out can also be tough. Here's how to support your family in getting back to normal routines once the children are back at school.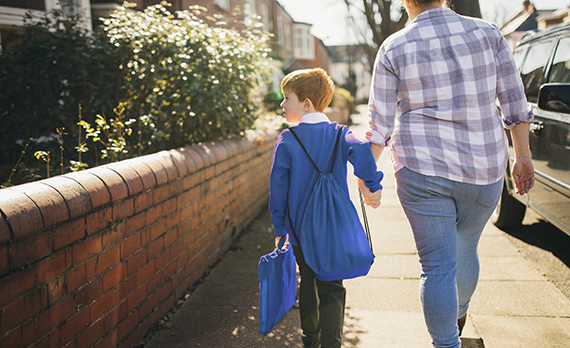 Getting back to a routine after a summer holiday can often feel like a challenge, but after the global disruption caused by COVID-19, the start of this school year may feel even more intense for families around the world.
'Whilst the start of the COVID-19 pandemic and the changes to our routines have been very traumatic and distressing for many, it is also the case that many of us have established new routines and in doing so made efforts to make life more predictable,' Dr Pablo Vandenabeele, Bupa Global's Clinical Director for mental health says. 'It therefore follows that as we re-introduce parts of our pre- COVID-19 lives, including returning to school, this means a new change to our routines and a change to the predictability of our lives, which can be stressful.'
But, Cami Endicott, an Upper Primary School Counsellor at Hong Kong International School, reassures, 'It always takes some adjusting to get into the routine of a normal school year, and in that sense, this year is the same.'
School disruption
Of course, the big difference to a normal school year is that UNESCO estimates that in April more than 90% of the world's students had their education disrupted by school closures during the COVID-19 pandemic1. Whilst lots of schools, including Hong Kong International School, have continued teaching online, children have been affected by a change to their normal routines.
'Different children have reacted differently to the changes,' Endicott says. 'Some of the more introverted children are really liking home learning, while the more extroverted children are missing the social aspect of school and connecting with their friends.'
Younger children seem to have struggled the most: a study by researchers at the University of Oxford of more than 10,000 parents of British children aged four to ten years old found that they saw increases in their child's emotional difficulties, such as feeling unhappy, worried, which resulted in behaviours including being clingy2.
Good news for some
But encouragingly, parents of children with special educational needs (SEN) said there was a reduction in their child's emotional difficulties.3 A separate survey by the University of Bristol found that of the more than 1,000 secondary school children, 13 to 14-year-olds were less anxious and actually more connected to school during lockdown than they had been last October4. 'As schools re-open, we need to consider ways in which schools can be more supportive of mental health for all students,' Dr Judi Kidger, senior author and Lecturer in Public Health at the University of Bristol, said.
New beginnings
So, faced with a return to normal, how can we get back on track? It all starts with establishing a new schedule that fits with work and school. 'The best thing you can do at home is to create a routine, even before school begins, to practice what the school day looks like,' Endicott says. 'Make sure your children are going to bed earlier, waking up earlier, to create a sense of normalcy.' That can also mean printing out schedules so that children know what to expect. 'This is especially useful for more anxious children, as they can see exactly what's happening and when,' Endicott adds.
While some may have relaxed normal eating rules at home, reintroducing daily exercise and healthy eating habits into your child's routine is vital to help them tackle stress. A 2013 study published in the Journal of Clinical Endocrinology & Metabolism found that active children showed less increase in cortisol levels than inactive children when exposed to stressful situations5. Meanwhile a separate 2018 study published in the journal Psychology Research and Behavior that looked at eight to nine-year-olds exhibiting anxiety found that practicing yoga and mindfulness techniques improved their emotional outcomes6.
Listen to their fears
If your child has concerns about going back to school after an extended period off, don't dismiss their fears. 'As parents, listening to their disappointments and reflecting their feelings open the lines of communication, which will allow children the space to be able to communicate their feelings with us,' Endicott says.
Check with them about what they think is happening. 'Children will have picked up some of the information that has been put out about COVID-19. However, it is always important to check that their understanding of this information is correct and that they have not developed their own 'COVID-19 reality', which may be worse than the truth and therefore increase anxieties further,' Dr Vandenabeele says.
Endicott agrees, adding, 'It's really important to understand your child's context and their perspective; be there to listen to the fears and to reassure them using factual information in an age-appropriate way. For example, in Hong Kong, we can tell children that the overall approach has limited the spread of the virus, that kids can keep themselves healthy by washing their hands and wearing masks and remembering that most people who get sick get well again.'
Parents can also reassure children that they are relatively low risk: researchers in Seoul found no sudden increase in cases of COVID-19 among children aged 19 and below in the two months after schools reopened7.
Talk about expectations
Talk about what to expect when they return to school – and how it might have changed. For example, in South Korea, where some children returned to their classrooms in mid-May, safety measures include having their temperatures checked twice every morning and wearing masks, except in the playground. Meanwhile English secondary school children may have to wear masks, depending on local lockdown restrictions, and in some cases teachers may greet their students at the gate dressed in PPE.
'If your child is more anxious about going back to school, try to arrange a time to meet the teacher before via Zoom,' Endicott says. 'Connecting with the teacher will help the child feel more comfortable.'
Make sure to also talk about the positives that they will experience: seeing friends and teachers again.
Rate your day
Dr Vandenabeele suggests when children are back at school, 'set a daily couple of minutes aside to check-in with the child 'how things have been?'.'
Encouragingly for parents, Endicott, whose pupils have been back at school since the start of September, says 'when I ask them to rate how they're doing on a five-point scale. I'm seeing the same range of numbers from our kids during home learning as I would in a normal year - most are 4s and 5s, with the usual handful of 1s and 2s who are having a bad day.'
Seek help if needed
Dr Vandenabeele adds that 'if you notice that your child's patterns of behaviours are significantly changing for example in case of emergence of persistent school refusal, sleep disturbance, emotional distress, loss of appetite, or irritability then I would recommend that further help is sought from your doctor.'
Bupa Global resources for customers
Bupa Global has resources to help you and your family cope. If you're a Bupa Global customer and have a health concern the Global Virtual Care (GVC) service provides confidential access to a global network of doctors by telephone or video call, with virtual appointments available 24/7 in multiple languages. This enables you to speak to a doctor at a time that suits you. Please visit our COVID-19 information hub for more details on how you can access our GVC service.
Bupa Global customers also have access to our Healthline service, which gives access to general medical information on COVID-19 and other medical conditions (mental and physical) as well as providing advice from health professionals and referrals for a second medical opinion.
Alternatively, if you have access to Bupa Global through your employer – you and your family may be entitled to use the Employee Assistance Programme. The programme entitles Bupa Global policyholders to access trained healthcare professionals 24 hours a day, 365 days a year via phone, email or online to talk through any work, life or personal concerns.
Global Virtual Care and Bupa Lifeworks are not regulated by the Financial Conduct Authority or by the Prudential Regulation Authority. Global Virtual Care is provided by Advance Medical, a Teladoc Health Company, and Bupa Lifeworks is provided by Lifeworks who are both service providers for Bupa Global. Bupa Global is not responsible for any actions or omissions carried out by these third parties in the provision of these services.