Mood foods to help you thrive and survive during tough times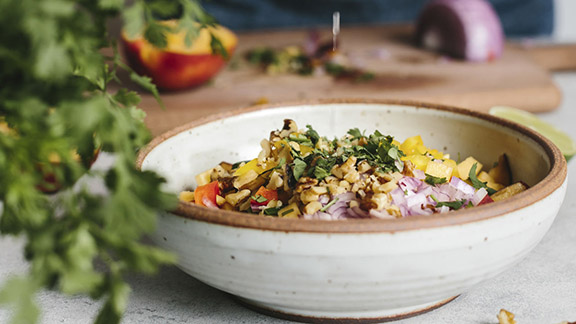 This year's theme for Mental Health Awareness Week is Thrive to Survive and Bupa's Senior Specialist Dietitian Maya Aboukhater reveals the foods which can boost your mood, as well as those which could increase your stress levels.
We all know the right foods can give your brain energy, help to fight inflammation, and get your general health back on track. But what many people don't know is how certain foods can also contribute positively to your mental health, by boosting your mood, while others can negatively impact your stress levels, potentially leading to other issues such as anxiety or depression.
According to the World Health Organization , mental health problems are the biggest cause of the overall disease burden worldwide, with 300 million people worldwide living with depression.
In the UK alone, one in four people will experience a mental health problem each year, while one in six people report experiencing a common mental health problem such as anxiety every week .
It's widely commented that increasing your levels of physical activity can help improve your mental health but it's also important to understand how the items in your shopping trolley can affect your mood.
Maya Aboukhater, Senior Specialist Dietitian at Bupa, reveals whether it's possible to plan your diet for your day in order to boost your mood, as well as the foods you need to eat in moderation to avoid negative impact on your mental wellbeing.
Mood-boosting foods
On the reasons behind why certain foods can help boost you mood, Maya said: "Feeling good comes from a balanced diet that provides adequate amounts of 'healthy choice' carbohydrates at regular times to keep blood glucose levels stable. It is very important, and a good start, to eat breakfast.".
And it's also important to ensure our diets are varied to ensure we are able to concentrate and remain fully focused. Maya added: "You should eat plenty of fruits, vegetables and wholegrain cereal foods, with some protein, including oily fish. This diet will provide a wide variety of vitamins and minerals to support our body's functions. According to the British Dietetic Association , the ability to concentrate and focus comes from the adequate supply of energy – from blood glucose – to the brain. The glucose in our blood comes from all the carbohydrates we eat – foods including fruit, vegetables, cereals, bread, sugars and lactose in milk.