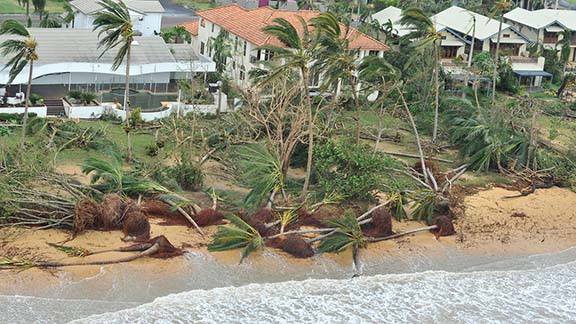 Bupa Global examines the long-term health implications once the cameras have gone and the world's attention has moved elsewhere.
Natural disasters have the capacity to cause human, environmental and financial losses of immense proportion. Areas hit by natural disasters often suffer major loss of infrastructure including transport, food supply, healthcare, sanitation and clean water.
The immediate health priority is to search for and rescue survivors, and attend to the sick and injured. Following this, there is an urgent need to provide food, clean water, emergency shelter and basic toilet facilities to help prevent the spread of diseases. The management of dead bodies is essential but gruesome task, as lack of careful management not only increases the infection risk, but can have significant effects on the mental health of the affected populations.
Water-borne diseases such as cholera, typhoid fever, and dysentery pose a major threat as they easily spread through contaminated water. Symptoms include diarrhoea and vomiting. Prompt medical treatment is essential to prevent severe dehydration and fluid loss. However, a lack of local health facilities can mean this doesn't always happen. Children are most at risk of life-threatening diarrhoea, as are the elderly and pregnant women.
Unlike other diarrhoeal diseases, cholera can kill adults within hours.
Inadequate water storage and poor drainage in warmer climates create perfect conditions for the spread of diseases that are passed to humans from insects, such as mosquitoes. So depending on the location of the disaster, malaria and dengue fever may pose a health risk, especially in children.
For those who have lost their homes and have to take refuge in emergency shelter, there are additional risks. Overcrowded, inadequate shelter with poor ventilation, combined with malnutrition and possible cold weather, can result in outbreaks of acute respiratory infections, such as influenza, pneumonia, tuberculosis and bronchiolitis. Again, it is the very young and the elderly who are at most risk in these situations, and they require specific and directed attention to keep them healthy.
Add into the mix traumatic injures that require immediate hospital or surgical care; those with minor injuries who are delayed from getting medical attention and therefore develop complications; and for those with a chronic condition, such as diabetes or asthma, lack of access to their usual medications or health facility and the situation set to get worse.
However, once the urgent needs of the population have been met and people have access to clean water, food, shelter and medicines – what next?
Depending on the scale of the natural disaster, many people may still have bigger challenges to face. These may include re-building houses, restoring water, sanitation and other public services to maintain the public health. In many afflicted countries, the buildings that make up the hospitals, labs and clinics themselves need to be re-established, and the challenges posed may take months if not years to overcome.
Be prepared and stay prepared
Natural disasters often occur with little or no warning. Being prepared, knowing where to go and who to contact in an emergency, and keeping healthy are keys to surviving a disaster.
Protecting yourself from illness
Vaccines are the best protection against serious illnesses. If you are working in or travelling to a potential disaster hotspot, ensure you have the relevant vaccines for your destination. Vaccines are available for diarrhoeal diseases such as cholera, typhoid and hepatitis A, and for respiratory diseases such as influenza, pneumonia and tuberculosis.
Living with a medical condition?
If you take medications for a chronic illness make sure you have at least a two week supply of extra medications on hand at all times, stored in an accessible and safe location.
Making a disaster plan
You have a responsibility to protect yourself and your family by knowing what to do before, during and after an event. Always be aware of your emergency escape route. Discuss with your family how to prepare and respond to emergencies that are most likely to happen where you live. Spending time to educate your children on how to avoid injury could be the most valuable hours you spend with them.
Prepare a disaster supplies kit.
A disaster supplies kit is a collection of basic items that you may need in the event of a disaster such as, food, water and first aid supplies. Keep the kit in an easy to carry bag so that you can take it with you
Keep emergency contact numbers with you at all times.
Bupa Global offers all members access to medical advice and emergency rescue service wherever you are in the world. Our evacuation team is on hand 24 hours a day to rescue members in distress from far-flung locations across the globe. The number to call is +44 (0) 1273 333 911.
Staying healthy in a disaster
If you were caught up in a natural disaster, simple measures such as those you would practise when travelling abroad can help reduce your risk of illness.
Boil water before drinking or using it to wash or cook. This kills the bacteria, viruses and parasites that may be present
Boil milk before drinking
Cook meat and vegetables thoroughly
Peel fruit and vegetables.
Maintain hygiene. Keep toilet areas separate from living areas, and wash your hands before and after eating with water that has been boiled