Food shops for health-conscious Londoners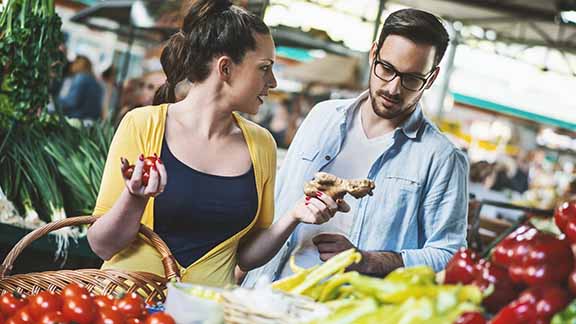 Londoners are notoriously busy people, but that doesn't mean that maintaining a nutritionally balanced diet comes second to their jam-packed schedule. Whether picking up a selection of healthy ingredients or grabbing a takeaway 'free-from' meal, locals are spoiled for choice. From vegan to organic, ethically sourced to locally grown – whatever is important to your daily diet, here are the best places in the city to do your shopping.
Planet Organic (previously known as As Nature Intended)
Why: Organic (almost) everything
A member of the Organic Trading Board (OTB), these healthy supermarkets stock a range of organic and fair-trade products and produce, all of which lack artificial chemicals, preservatives and colourings. More recently, the owners have seen a surge in demand for free-from food too, so expect to find a wide range of vegetarian, vegan, gluten-free and dairy-free offerings.
Balham, Chiswick, Ealing, Islington, Stratford, Spitalfields, Torrington Place, Queen's Park, Wandsworth, Westbourne Grove
Online: www.planetorganic.com
Squirrel (delivery only)
Why: Nutritionist-curated menu
Since opening its doors in summer 2016, Squirrel's menu has featured salads, soups and stews, hot and hearty grain bowls, breakfast porridge bowls, and a few seasonal options that contain foraged ingredients.
The dishes have been created by in-house nutritionist Zoe Stirling and creative chef consultant Dara Sutin, who has worked with Jamie Oliver and on Gwyneth Paltrow's website Goop.
And it doesn't stop there, the nutritionally balanced dishes aren't just good for customers – the venue itself tries to be as environmentally sound as possible. Co-founder Anneke Gilkes says that in order to reduce waste, and use recyclable and fully compostable packaging where possible, Squirrel is committed to using 'ugly' fruit and vegetables that wouldn't normally make it onto the supermarket shelf.
With an eye on the latest healthy-eating obsessions, and perfect for those looking to reduce their caffeine consumption, Squirrel serves turmeric and matcha lattes, bone broth and hot tonics alongside cold-pressed juices, kombucha (fermented black and green tea) and fresh coconut water.
Battersea
Delivery via Deliveroo: https://deliveroo.co.uk/menu/london/battersea/squirrel
Detox Kitchen
Why: Seasonal ingredients
Seasonal ingredients are cooked from scratch every day in the kitchen, whether it's mouth-watering dishes with spring asparagus or serving up stuffed summer aubergine with cherry tomatoes – all dishes are healthy, nutritious and delicious.
The team at Detox believe that wheat, dairy and refined sugars are highly processed and often stripped of their nutrients. And, it's because of this, they choose not to cook with them. While Detox don't advise people to cut them out, they want to provide easy and tasty alternatives that will help customers reduce their intake.
The flagship store in Fitzrovia has a fitness studio offering a range of yoga, Pilates, barre, ballet and high intensity training classes (HIIT). Of course, post-session smoothies are blended to order.
Kingly Street, Soho and Mortimer Street, Fitzrovia
Delivery: www.detoxkitchen.co.uk/about/delis
GreenBay
Why: Vegan produce
Plant-based and cruelty-free produce and household products are the focus of this vegan supermarket, which recently launched an online shop too. With an emphasis on advice and education, the staff can point shoppers in the direction of meat and dairy-free products they might not have encountered before, while regularly sharing recipe ideas and vegan advice on their social media channels.
West Kensington
Online: www.greenbaysupermarket.co.uk
Melrose and Morgan
Why: Traditional recipes with a healthy twist
Creating an array of products at their off-site kitchen in Chalk Farm, co-owner Nick Selby says their baked goods are always popular: "The range features classics like Battenburg cake and parmesan and poppy seed biscuits, and when summer starts we like to celebrate with British berries from local farms.
"Our counters are jam-packed with different savoury items, from traditional chicken and ham pies to more contemporary healthy sweet potato and quinoa muffins. We want to offer food that satisfies today's modern way of eating while holding on to our traditional recipes. There is always a vegetarian option and we are just introducing some vegan lines, which are very much in demand."
Hampstead and Primrose Hill
Online: www.melroseandmorgan.com