Free sugar and natural sugar: know the difference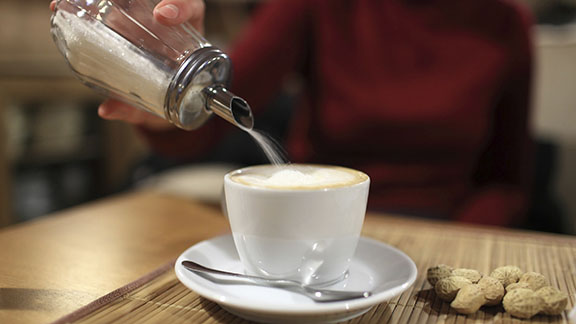 Whatever you eat, sugar can find its way into your diet if you are not careful. In this article you can find out what sugar is, what it does to your body, and how to stay one step ahead.
What is sugar?
Sugar is a simple form of carbohydrate. It is one of the nutrients that powers your body, along with protein and fat. So, some sugars are indeed 'friendly': you need them. But when it comes to your health, are all types of sugar equal?
Natural versus 'free' sugar
Sugar is actually sucrose, which is made up of glucose and fructose. There are other types of sugars too, including lactose, which naturally occurs in milk. Supermarkets sell a wide range of sugars. But when it comes to your health, there are two types that count:
Naturally occurring sugars – sugars that are found in unsweetened dairy products, vegetables, fruit in its natural state (not pulped or juiced) and starchy foods
'Free' sugars – any sweetener added to foods, including sugar, honey, natural syrups, alternative sweeteners, and any fruit-based product separated from the natural fibre – which includes fruit juice.
Naturally occurring sugars are fine to eat – in fact, you can't avoid them even in a healthy diet. But the UK's Scientific Advisory Committee on Nutrition says that we need to drastically reduce our intake of free sugars to less than 5% of our daily calories 1. That's:
30g (7 tsp) for adults and children aged 11 years and over
24g (6 tsp) for children aged 7-10
19g (around 5 tsp) for children aged 4-62.
Why does it matter?
It is well known that sugar intake is linked to body weight3. Excessive weight can lead to obesity, which has a range of associated risks including high blood pressure, heart disease, some types of cancer, and liver or kidney disease4. It can also lead to Type 2 diabetes, which can cause blindness, heart disease, kidney failure, stroke and foot problems causing more than 135 amputations per week in the UK5. Research has also found a separate link between sugary drinks and diabetes6. Sugar also causes tooth decay, which can lead to a surprising level of ill-health including septicaemia, and is the leading cause of hospitalisation of 5-9 year olds7.