Stay fit while pregnant with bump-friendly workout routines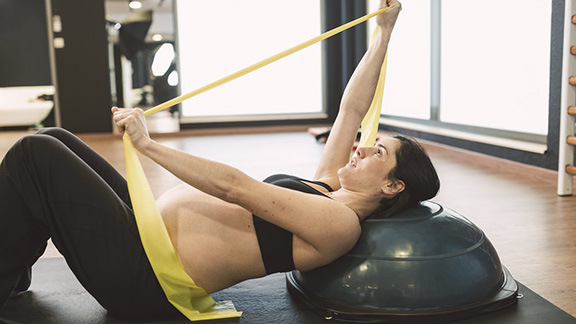 From yoga and Pilates to cardio workouts and weight training, there's no need to give up your favourite exercise routine when you're expecting. In fact, there are some significant health benefits to finding a fitness routine for you and your bump. And with so many prenatal classes and trainers available, it's never been easier to stay fit, glow with endorphins, improve your mental wellbeing and prepare your body for labour.
Before you leap into a prenatal fitness routine, check in with your healthcare professional to make sure you're in the 'low risk' category. Once you have the all clear, it's time to find your perfect workout.
Why slip on your gym shoes?
Exercising during pregnancy offers a whole host of positives, from reducing discomfort to quashing stress and giving women some much-needed 'me time'. "With each stage of pregnancy comes new stresses, and exercise can help antenatal women on their journey," says Alex Marks, specialist prenatal personal trainer at On Your Marks. "Lifting weights and moving dynamically can heighten physical awareness and leaves a lot of expectant mothers more empowered."
What's more, exercise improves your mood, strengthens the heart and promotes the kind of strong, healthy muscles that protect your joints – just what you need during pregnancy.
Take the tailor-made option
While listening to your own body is key, guidance from a fitness specialist can improve your prenatal workouts significantly. A tailor-made plan from a trainer or teacher who has worked with other expectant mothers will not only give you plenty of tips and tricks, it will also provide a sounding board to create the ideal routine.
A trainer can also help you break misconceptions about what you can and can't do during pregnancy, keeping you safer and fitter all the way to your due date.