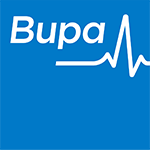 This plan is for companies who work in the maritime shipping industry.
Maritime Shipping
These are some of the benefits of the Bupa Global maritime shipping plan:
worldwide out-patient consultation and treatment cover
in-patient treatment cover
24-hour multi-lingual medical helpline
optional evacuation and USA cover
track your claims*, update your details and view your policy documents via our MembersWorld website
At Bupa we have been looking after the health insurance needs of individuals and groups since 1947. And as an international business we have become famous for helping millions of people to live healthier, happier and more productive lives. We now have offices and working relationships with local businesses in various locations throughout the world and a global brand that is associated with great healthcare.
Since we launched Bupa Global in 1971, the world of medicine has changed a great deal – and we have grown too. We have harnessed modern technologies and processes, and become one of the world's leading international medical insurance providers for expatriates.
How to manage your insurance plan online
Contact us
To discuss your needs, please call us on:
Calls may be recorded and monitored
The Bupa Global difference
Over 40 years of medical expertise and dedication to health. A global team of advisers and health experts who, between them, speak multiple languages – and a service that exceeds expectations. These are just a few of the things that make Bupa Global different. Explore how we provide you with world-class cover and stand apart from the rest.